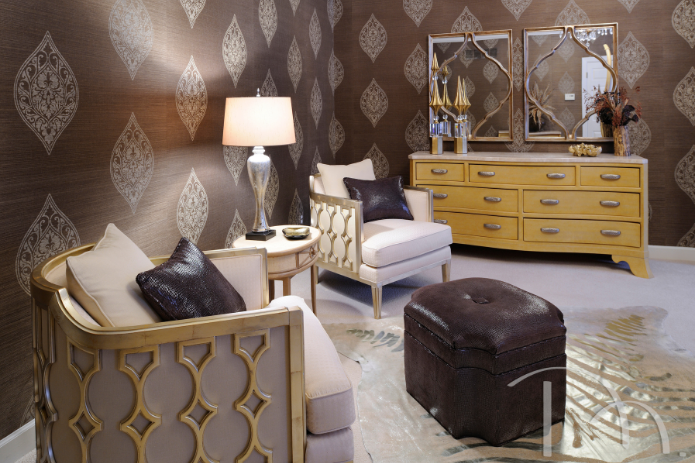 "A room should never allow the eye to settle in one place. It should smile at you and create fantasy."
~ Juan Montoya
Wallpaper is a design element that can definitely keep your eye moving around a room, and some papers do even create fantasy. It's a classic choice that can totally transform a space much more so than paint. And today, designers (this one included) are choosing it over and over again to make a style statement in their clients' homes.
In this blog, I'd like to share with you a few of the rooms that we've transformed with wallpaper and also a few fun facts about wallpaper that might make you chuckle.
Our challenge here was to marry the wife's desire for a glamorous primary bedroom escape and her husband's need for structure and a more tailored look. Our solution? A bold, geometric wallpaper in restful blues as an accent wall behind the bed. This paper is the perfect backdrop for the classic upholstered headboard in a soft silvery neutral for a little shimmer and shine.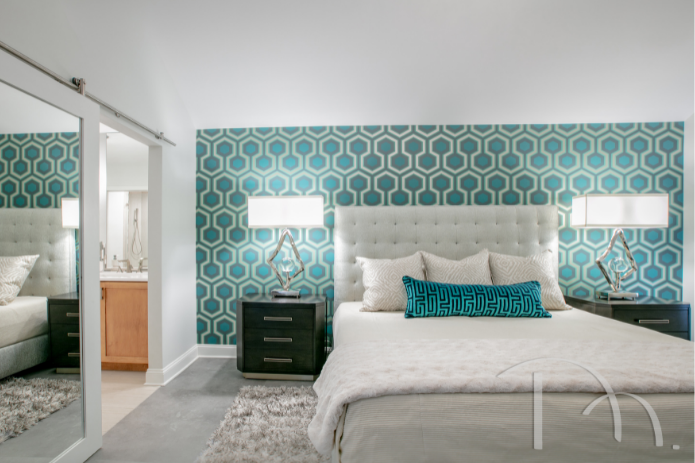 Weird Wallpaper Fact: The Irish poet and playwright Oscar Wilde died in a cheap Parisian hotel. His last words were: "Either this wallpaper goes, or I do". The wallpaper remained. (via Victorian Homes)
(left): Another bold, geometric wallpaper choice, but this time in a larger, black and white pattern that makes the cool, custom floating vanity a standout.
(right): This guest room is sure to delight with its fresh pink, white and gray palette. The busy wallpaper would have been too much on every wall, but as an accent, it gives this sweet palette a little edge.
Weird Wallpaper Fact: Bubble wrap was intended to be used as 3D wallpaper when it was invented in 1957. It didn't catch on. (via Victorian Homes)
(left): Powder rooms are a great spot to have fun with wallpaper. We wrapped this one in big black and white blooms for maximum drama. The sparkling iridescent black subway tiles topped with iridescent mosaics and a chair rail in iridescent black paint add sparkle and protect the papered walls from water splashes.
(right): Whimsical fish swim across the black background of this fun wallpaper we chose for another client's powder room.
Weird Wallpaper Fact: Play-Doh was originally invented to clean soot from wallpaper. In 1954, it was discovered that by removing the detergent from the "wallpaper dough" and adding scent and coloring, the dough could be made into modeling clay for children. (via Victorian Homes)
We chose a beautiful brown and gold wallpaper with a Moroccan motif to add global flair to this Hollywood glam primary bedroom. You'll notice the motif shape used throughout this space on the backs of the chairs, the bedside lamps, mirrors and the bed covering.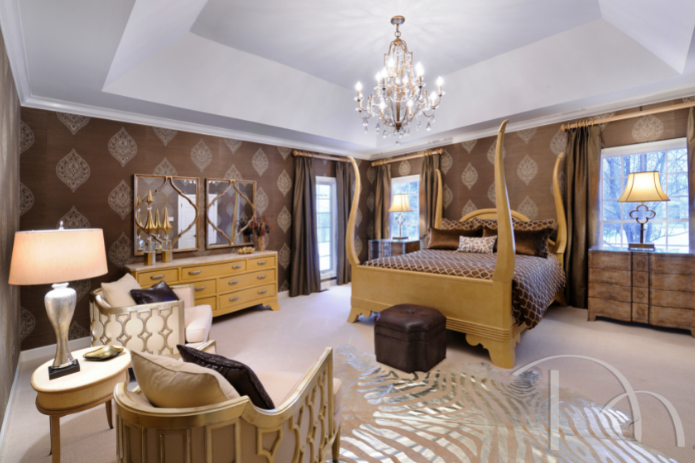 Weird Wallpaper Fact: Wallpaper designer Jon Sherman's Flavor Paper brand, based in New York, produces seven color, scratch-and-sniff tutti-frutti wallpaper, black light and glow-in-the-dark wallpaper. (Via Victorian Homes)
(left): A stunning Phillip Jeffries wallpaper called "Fade" in soothing shades of blue mimics ocean waves  and is the perfect accent wall in this relaxing coastal primary bedroom.
(right): Here's a closeup of the wallpaper. It comes in other colors, too.
Weird Wallpaper Fact: In the 1850s, it became fashionable to have green wallpaper. Unfortunately, the wallpaper's hue was due to arsenic, which poisoned many of those who spent too long in air-tight, wallpapered rooms. It then was featured as a murder weapon in many crime novels. (via Victorian Homes)
Just look how much more interesting this beautiful hearth room is with this subtle but stunning neutral wallpaper. Even quiet patterns and colors can make a space come alive and serve as a lovely background for all of the other finishes in the room.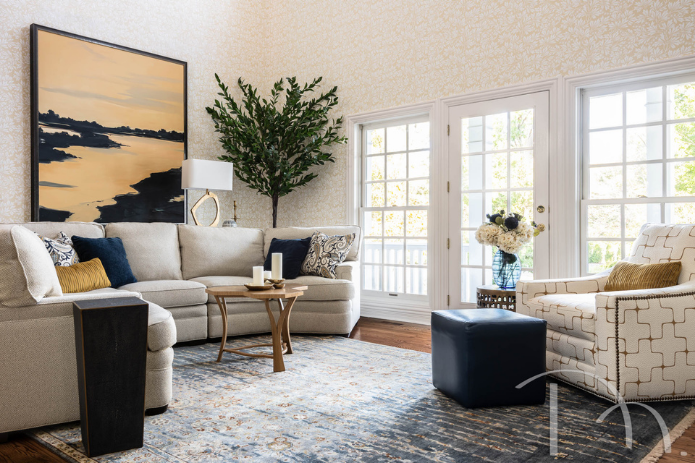 So what do you think about wallpaper? If it's always made you cringe, you might want to reconsider. It's not what it was in the 70s and 80s. There are so many colors, patterns, textures and even types of wallpapers today. It might be worth another look ;).
And, as always, if we can help make your design dreams come true, please give us a call at 314.395.1114 or email us. We'd love to hear from you!
Until next time,