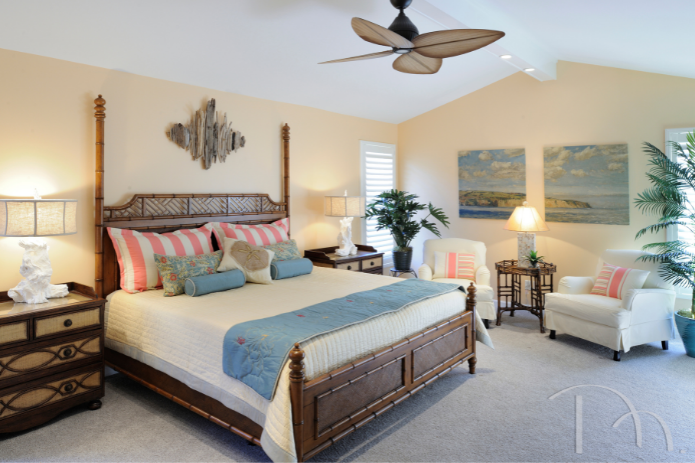 Design by Marcia Moore | Photo by
Michael Jacob
Are you crazy for Coastal style? Me, too! This bright and breezy design style is all about carefree, comfortable living. And who doesn't want that? And unlike the contrived, trendy "beachy" looks of the past, today's contemporary Coastal designs are soft, sophisticated and the epitome of simple elegance. But don't despair if you're a color lover like me! Bold, vivid island hues are also a Coastal favorite.
Here are 3 Design Tips for bringing ocean breezes to your doorstep, even if you live thousands of miles from the beach!
1. CHOOSE YOUR COLOR PALETTE
When you think Coastal, do the watery sea blues, driftwood grays and seashell pinks of the Hamptons come to mind or is it the hot pink fuchsias, spicy tangerines and palm leaf greens of the Caribbean that float your boat? Or maybe you are more drawn to the sunbaked terra cottas, sapphire blues and sandy beiges of the Mediterranean. All of these work. Just stay consistent and remember, adding white is the key to a coastal palette.
2. INCORPORATE NATURAL ELEMENTS
Organic materials inspired by nature, such as wicker, rattan, raffia, jute, seagrass, shagreen, hemp, sisal, along with weathered woods, matte or honed finishes, glass tiles, rope, bone, driftwood and cork combine beautifully to create an ambience of kick off your shoes, laid back style.
3. DON'T GET TOO KITSCHY WITH BEACHY ACCESSORIES.
Avoid having your home look like a seaside souvenir shop by going easy on the seashells, fish floats and rope knots and opt instead for more understated accessories that offer a more subtle Coastal vibe. Think one large clamshell instead of a bunch of little seashells scattered around. Or what about art that reflects your seaside travels or even some black and white photos to offset the Coastal colors. Seaglass beads also look awesome draped over a book or in a bowl. Get creative and your spaces will whisper "sophisticated" instead of screaming "Welcome to my beach house!"
Here's how we used different Coastal color palettes, organic materials more subtle accessories in a few of our projects.
A soft scheme of ocean blues and natural hues make this primary bedroom a relaxing retreat. The Phillip Jeffries wallpaper mimics ocean waves, while the fun wicker octopus is perfect next to the bench's whimsical fabric.
Here's a closeup of that adorable octopus and the awesome bench fabric.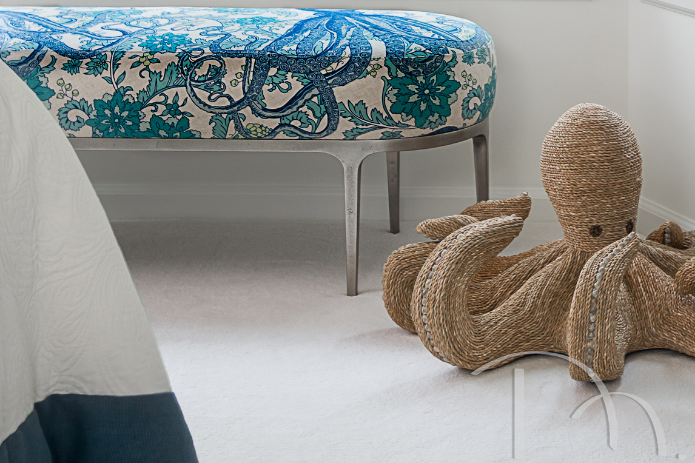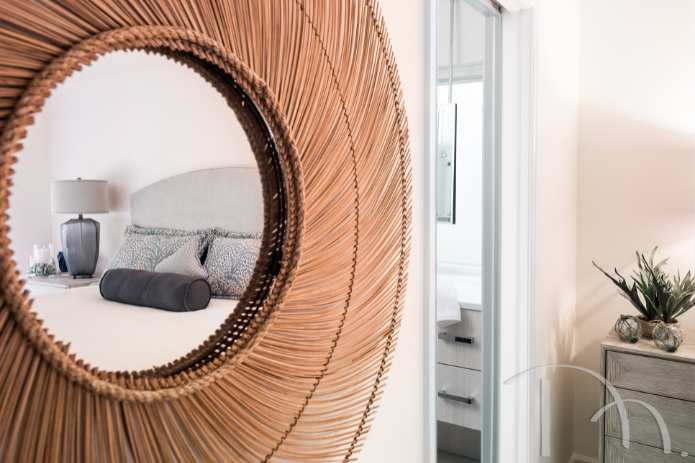 In this home's award-winning primary bathroom, we continued the contemporary coastal vibe with a soft palette of mossy green, sandy beige and ocean blue, which connects with the primary bedroom retreat.
SEE MORE of this project in our portfolio.
In this primary bedroom we added pops of coral and yellow to the Coastal blue and white mix. Note the driftwood wall art and West-Indies-inspired dark wood furnishings, with a stunning bamboo bed as a focal point. The white bedside lamps were crafted from a driftwood mold.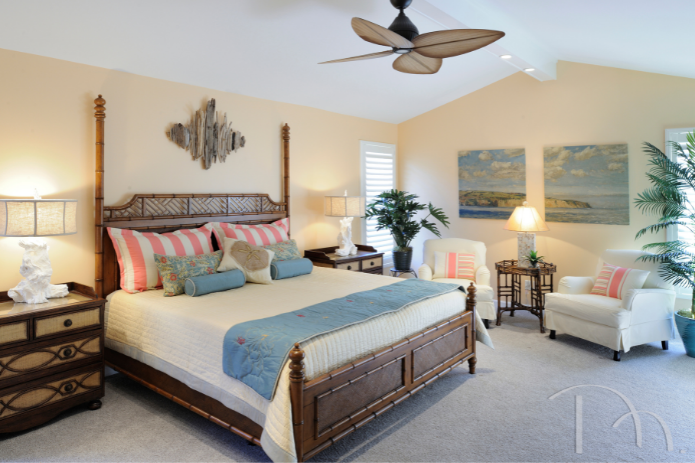 Design by Marcia Moore | Photo by
Michael Jacob
In this same home, we dressed the sitting room in peach. Decorative painter Carey Seven of Mountjoy Designs softened the color with a two-layer transparent glaze in creamy yellow and warm silver. Though a tad more formal, the sitting room retains its seaside air with French cane back armchairs, bamboo-like silver Greek Key mirror, Tiffany shell lamp and a Venetian bamboo-legged table with a mirrored top. We also filled an unexpected black Asian-feel etegere with white shells of all shapes and sizes.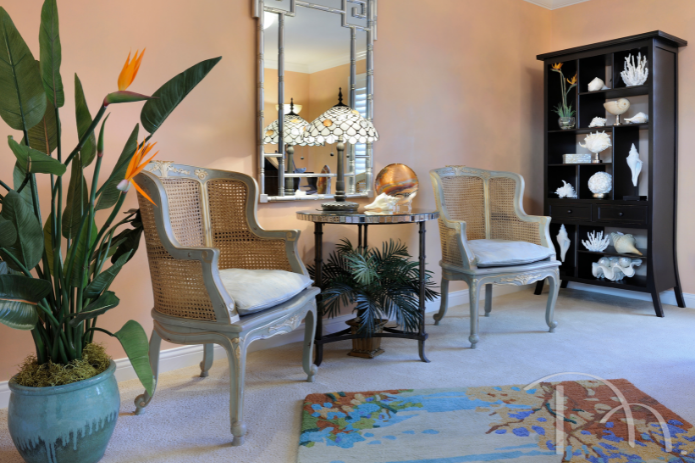 Design by Marcia Moore | Photo by
Michael Jacob
In the family room, an easy care leather sectional in maritime navy blue and a white leather recliner invite kick back casual conversation. Wicker ottomans introduce an organic element to the space, and pops of coral in the pillows add color to the neutral background. Definitely not kitschy, the bold, Brutalist metal sailboat sculptures are unexpected and pair nicely with the contemporary coastal painting. The Brutalist art style features handcrafted metal with rougher edges, adding shine and dimension.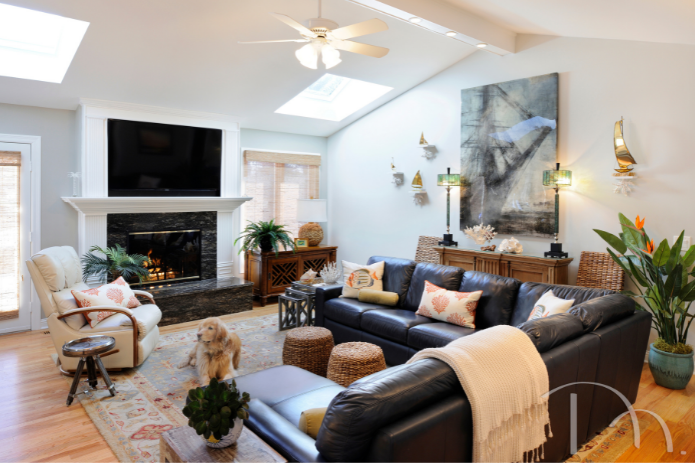 Design by Marcia Moore | Photo by
Michael Jacob
The ideal accent for a Coastal-inspired space, this small side table is a replica of a ship's compass set on an adjustable tripod.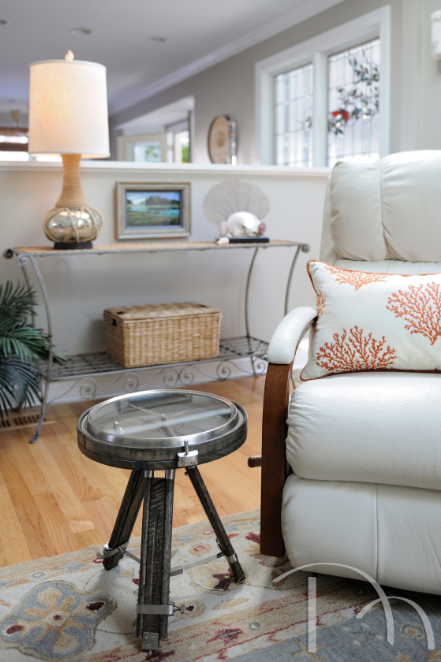 Design by Marcia Moore | Photo by
Michael Jacob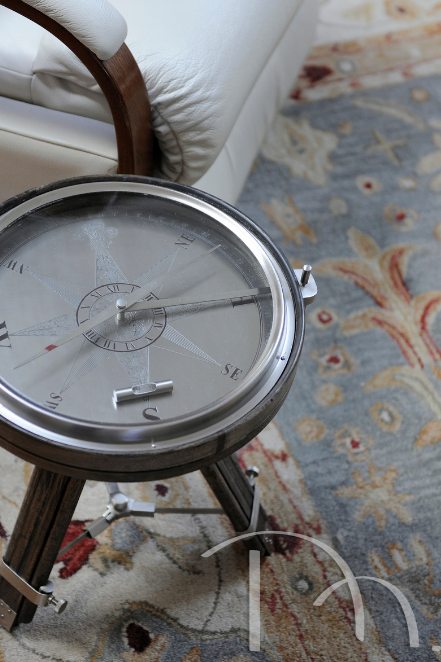 Design by Marcia Moore | Photo by
Michael Jacob
The dining room  is casually elegant, with a brighter color palette of turquoise and coral. A beautiful chandelier made from natural seashells glistens above the round pedestal table, its shape also resembling a seashell. Four wicker armchairs with loose cushions invite leisurely dining and sit upon a rug chosen for its ocean-like palette.
Three mermaid corbels, each distinctly hand painted by muralist Mary Hanson, support a custom glass wall-mounted console. The console's glass was purposely cut to mimic an ocean wave. Coral accessories, seaweed prints, a large clamshell filled with coral and a whimsical ibis lamp are perfect finishing touches.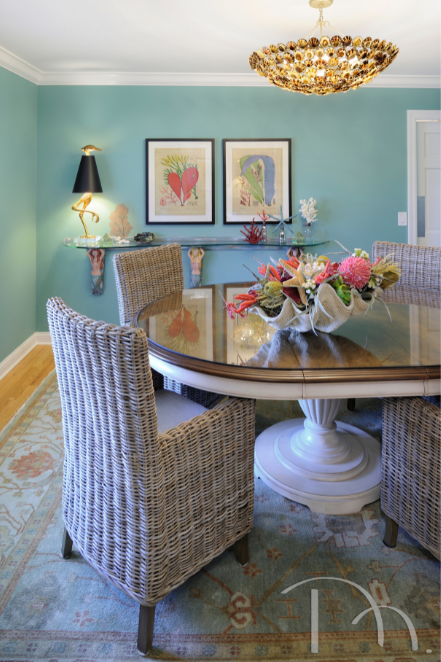 Design by Marcia Moore | Photo by
Michael Jacob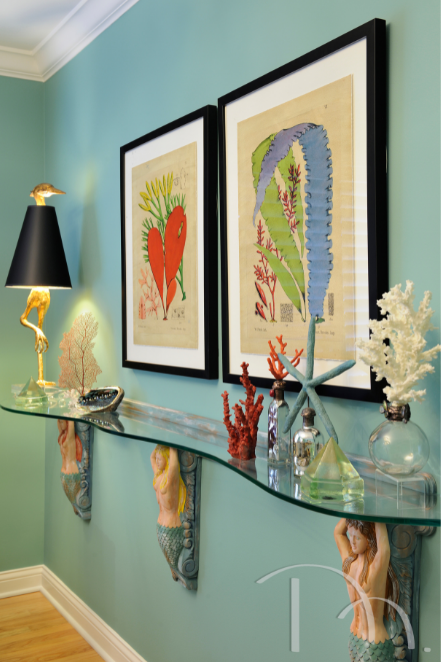 Design by Marcia Moore | Photo by
Michael Jacob
Palm trees hand painted by Mary Hanson are another custom detail in the dining room.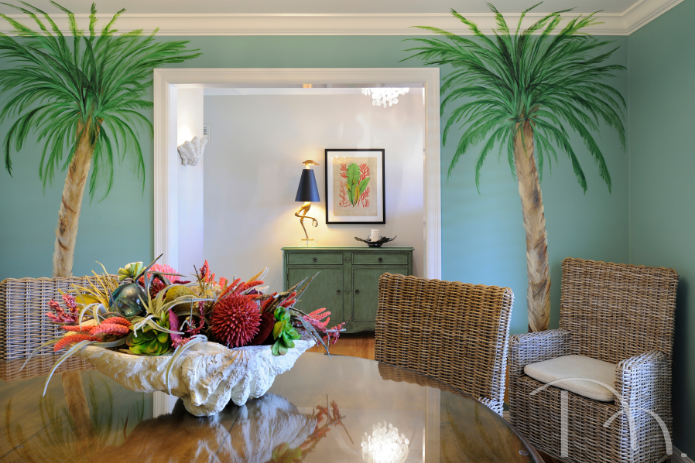 Design by Marcia Moore | Photo by
Michael Jacob
READ MORE about this Coastal-inspired home.
Finally, Coastal style is all about living the easy life in a space that renews and rejuvenates. So clutter is a big no-no. Keep collections simple. A display of blue-green glass bottles on a mantel is perfect or adding a striped wallpaper or fabric to the mix might be all you need to get the look you want. The thing to remember is…keep it simple, and you can't go wrong.
Until next time,