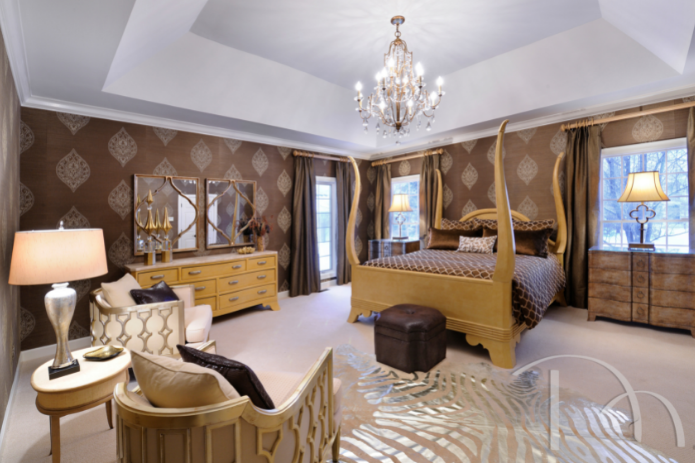 As today's Hollywood A-Listers know, the bold, geometric and modern shapes of a classic piece of Art Deco-inspired jewelry can make quite a style statement when paired with a breathtaking creation from a famous fashion designer. The same is true for interior design. Just a touch of Art Deco can be the perfect finishing touch transforming a timeless elegant room into a sophisticated space with a punch of star-studded Hollywood glam. That's just what we did in this primary bedroom.
The design is part Hollywood glam and part Art Deco with a little bit of Moroccan thrown in through the stunning wallpaper. My inspiration really came from my clients. The only absolutes I was given were to use their existing bedroom set, and the wife really wanted chocolate brown walls.
DID YOU KNOW? Brown in interiors is totally trending this year. Not surprising, since, according to color psychology, brown offers a sense of wellbeing, and after the past two years, we could all use a sense of that. A recent article in Vogue magazine on this year's interior design trends, said this, "Humans feel a sense of safety and security when surrounded by brown. Why? Its associations with the earth: the calming and resilient element that keeps us quite literally grounded."
An important part of the success of any design project is the homeowners themselves. These clients were a lot of fun to work with; they weren't afraid to try new things and go over the top. And they trusted my skills and my judgment to provide them with a primary bedroom that fit them to a tee.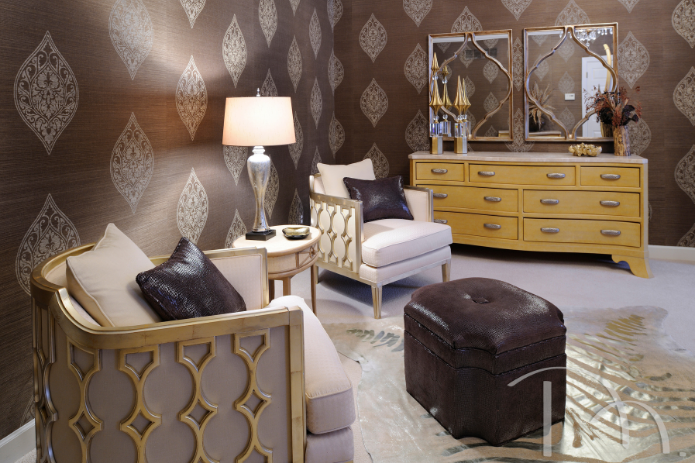 What design elements make this bedroom spectacular?
The Wallpaper.

I loved this wallpaper the moment I laid eyes on it, and I knew I wanted to use it as the basis for this room. The chocolate brown grasscloth paper from Seabrook with its Moroccan medallion motif is the ideal complement to the homeowner's fabulous bed with four posters that resemble elephant tusks.

The Chairs.

I had the same "aha" feeling when I found the chairs. They're so glamorous and unique that I knew they'd be perfect. They're also extremely comfortable, which isn't always the case with gorgeous chairs.

The Mirrors.

The stunning twin mirrors above the dresser also mimic the wallpaper's Moroccan medallion motif.

The

Fabrics + Accessories.

The drapery fabric was almost an exact match to the background of the wallpaper, allowing the drapery to blend rather than distract. A faux crocodile leather ottoman and pillows add earthiness, and the painted hide underfoot was the final glamorous touch. Not many accessories were needed because the entire room was full of eye candy already.
DID YOU KNOW? Although I chose pattern to bring Moroccan flair to this space, Moroccan design also favors bright bold colors, such as fuchsia, deep purple, royal blue and vibrant red. Benjamin Moore carries two beautiful Moroccan reds.
Tips for a glamorous, cozy retreat
THINK SIMPLE. This kind of opulence works well with a more monochromatic, simple color scheme.
FOLLOW YOUR HEART. Design is all about doing what you love and loving where you live. If you find something you can't live without, you can almost always make it work. for this project, the bedroom wallpaper was a must-have.
MIX DON'T MATCH. There's nothing magical about matching. The magic is in the mix. Blending textures and materials will add interest to your space. For this primary bedroom, we used grass cloth, leather, faux crocodile, velvet and metal.
DON'T SETTLE! I'm a big believer in searching for the perfect item rather than buying something that isn't exactly what you want just to fill the space. Remember, good things come to those who wait 😉
Have I inspired you to create a glamorous space in your home? Whatever style you prefer, we're here to help. Give us a call at 314.395.1114 or send us an email and let's get started today!
Until next time,