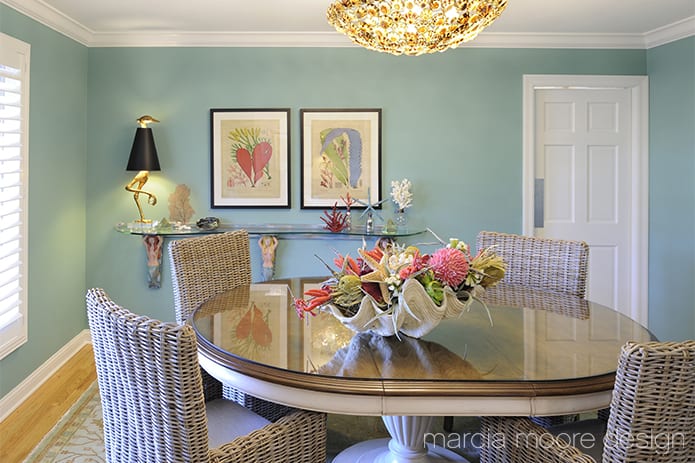 "When we first met Marcia Moore and found out she had lived five years in Key West, we knew it would be a love connection. She instinctively understood the look we wanted to achieve."   – homeowners
Our clients, a newly retired couple who longed to live on the coast but were tied to St. Louis, hired us to bring the coast inland. We remodeled their entire home with sand and surf as our inspiration. Punches of vibrant Caribbean colors, such as hot pink and turquoise blend with softer pastels to form a backdrop for West Indies-inspired furnishings.
Original art, much of it beach-themed, puts the finishing touch on this "coastal" home, which sits smack dab in the middle of the Midwest. Now this lucky couple "lives by the sea," minus the sand and the hurricanes. Pure fun in every way, this house proves that a "theme" can be done with sophistication and classic style.
DINING ROOM
The dining room is a clear reflection of the homeowner's desire to bring the beach home. Wrapped in Sherwin-Williams "Composed" (#6472), the space is casually elegant. A beautiful chandelier made from natural seashells glistens above the round pedestal table, its shape also resembling a seashell. Four wicker armchairs with loose cushions invite leisurely dining and sit upon a rug chosen for its ocean-like palette.
Three mermaid corbels, each distinctly hand painted by local painter and muralist Mary Hanson, support a custom glass wall-mounted console. The console's glass was purposely cut to mimic an ocean wave. Coral accessories, seaweed prints, a large clamshell filled with coral and a whimsical ibis lamp are perfect finishing touches.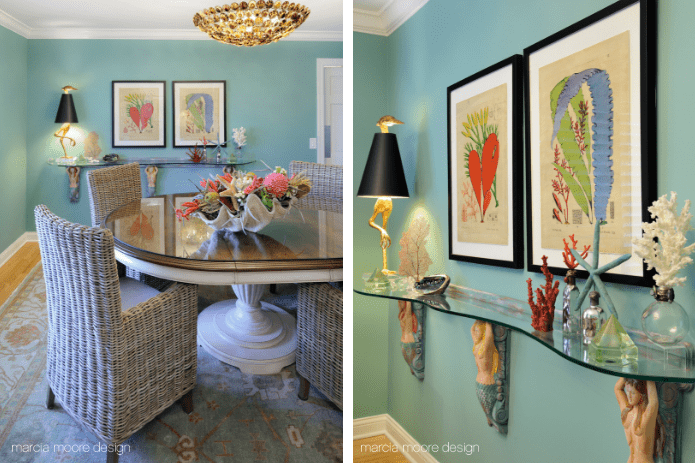 DESIGNER TIP: Choose a paint color for your space AFTER you've chosen other elements, such as furniture, rugs, fabrics, etc. It's much easier to pick a paint color that will go with everything else, than the other way around.
Palm trees hand painted by Mary Hanson are another custom detail in this tropical dining room.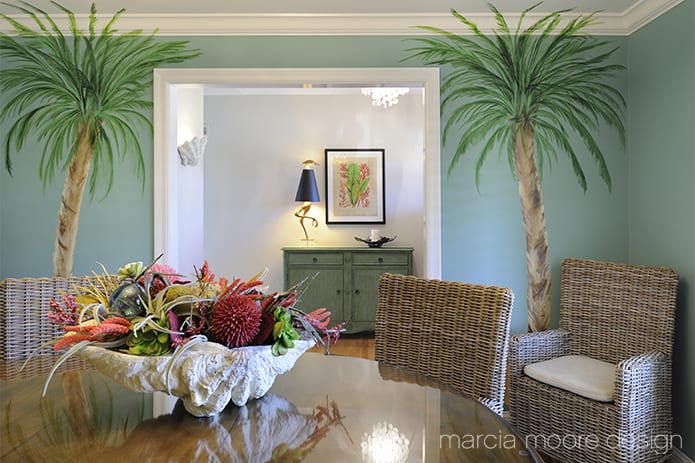 FAMILY ROOM
"In a beach house, everyone gathers together. That's what's so great about our family room and kitchen. It's one big space."  -homeowner
The spacious family room, open to the kitchen, is where our clients relax and unwind with family and friends, so comfort was key, without sacrificing good looks. An easy care leather sectional in maritime navy blue and a white leather recliner invite kick back casual conversation. Wicker and teak accent chairs introduce an organic element to the space, and pops of coral in the pillows add color to the neutral background. Sherwin-Williams "Nantucket Dune" (#7527) on an accent wall allows the Brutalist brass sailboat sculptures and painting to pop.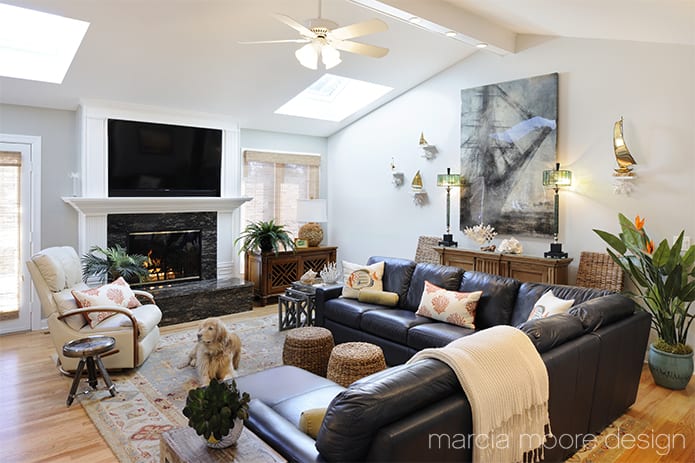 DID YOU KNOW? Bold, Brutalist metal artwork, such as the sailboat sculptures on the wall in the photo above, was popular in the 1950s-1970s and is making a comeback today in contemporary home décor. This art style features handcrafted metal with rougher edges and adds shine and dimension to wall sculpture.
The ideal accent for a coastal-inspired space, this small side table is a replica of a ship's compass set on an adjustable tripod.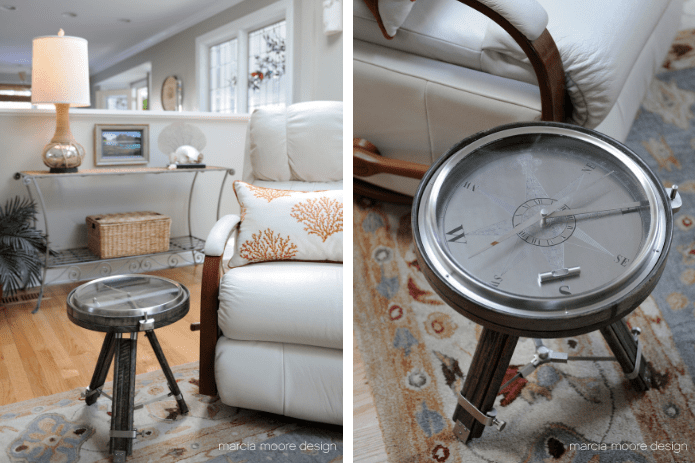 MASTER BEDROOM
The master bedroom, painted in "Flan" (#6652), a restful ivory hue by Sherwin-Williams, is an artful blend of tropical hues, West Indies-inspired furnishings and beachy accents, with a stunning bamboo bed as the focal point. Custom touches include a creamy coverlet and handmade decorative bed runner embroidered with hibiscus. White bedside table lamps were crafted from a driftwood mold.
DESIGNER TIP: Plantation shutters are a classic choice anytime but work especially well in a coastal-inspired home where light, bright and unfussy rooms are the goal.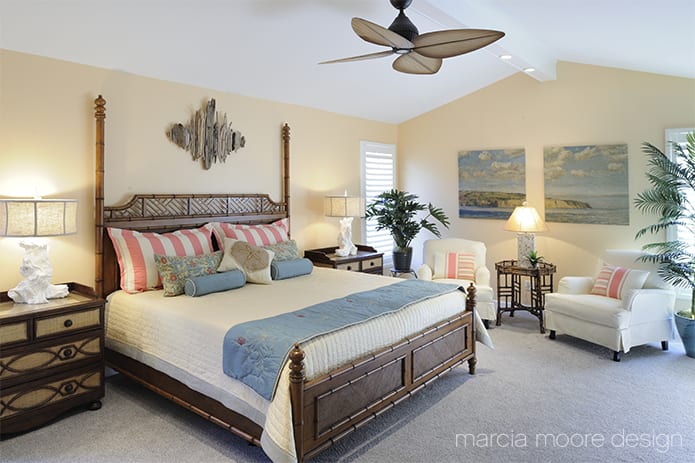 SITTING ROOM
A small sitting room adjacent to the family room is painted in Sherwin-Williams "Certain Peach" (#6625). The wall color was softened with a two-layer transparent glaze in creamy yellow and warm silver by Carey Seven of Mountjoy Designs. Though a bit more formal, the sitting room still retains its seaside air with French, cane back armchairs, bamboo-like silver Greek Key mirror, Tiffany shell lamp and a Venetian bamboo-legged table with a mirrored top. We also filled an unexpected black Asian-feel étegére with white shells of all shapes and sizes for a dramatic look. The colorful rug brings the brighter color palette found throughout the rest of the home into this space.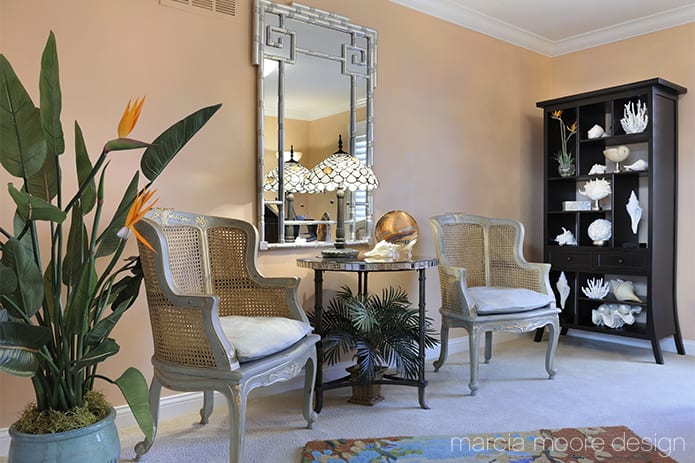 MASTER BATH & POWDER ROOM
The master bath is a true retreat with sandy hues, organic elements and walls painted in Sherwin-Williams "Interactive Cream" (#6113). A backsplash of crackle glass adds sparkle to the Cambria countertops and tub surround. We "beached up" the cabinetry a bit, too. The darker finish could have gone more traditional, but adding handles in distressed brass (like the old brass on a ship), gave the cabinets a distressed, aged feel. We repeated that aged brass ship feel in the faucets.  Seashells, driftwood and coral were obvious accessory choices, and a bamboo bench, starfish rug and an oil painting that resembles a sandy beach are perfect finishing touches.
Even the powder room as been given a coastal transformation. We especially love the mermaid lounging in the clam shell, don't you?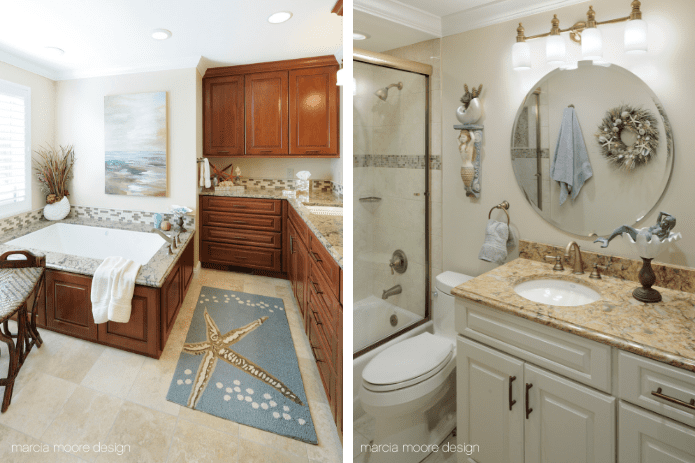 HALLWAY
A gallery of original paintings, all similar in color and uniformly framed, lines the long hallway. We installed small halogen gimbel lights with dimmers to create the art gallery effect. A completely different art piece, an iron seagull sculpture, visible through the doorway is a nice segue to the Brutalist brass sailboat sculptures on the wall of the adjacent family room. Runners that mimic the look of swirling water on a seashore soften and ground this space.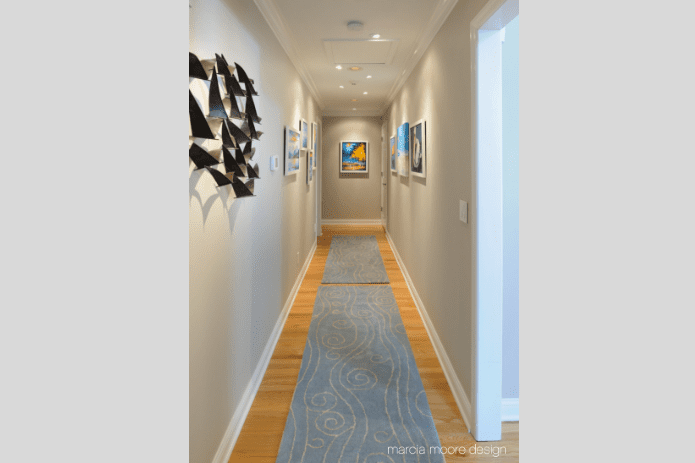 What do you think? Is the coastal look for you? No matter where you live, it's possible to bring the beach home.
Until next time,