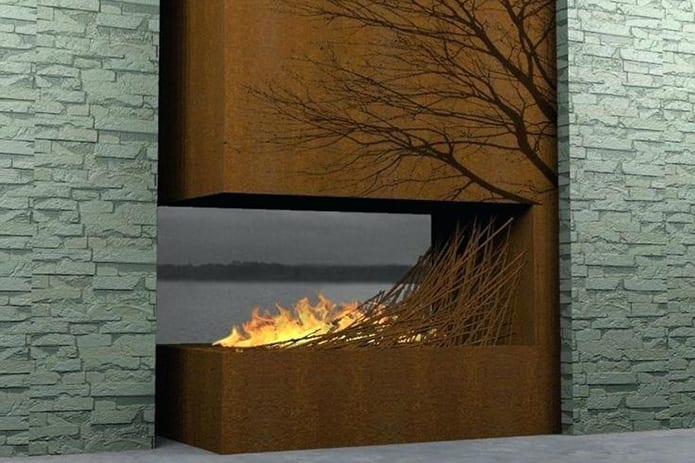 "We no longer build fireplaces for warmth. We build them for the warmth of the soul; we build them to dream by, to hope by, to home by."   Edna Ferber
I don't know about you, but fireplaces hold a special place in my heart. I have wonderful memories of singing around a campfire as a child, sleeping in front of a roaring fire when the electricity went out during an ice storm and sipping hot chocolate at a ski lodge in Colorado.
To me, no home is complete without a fireplace. What used to be a necessity for warmth and cooking is now a mesmerizing and calming centerpiece of our homes. My dream home would have three fireplaces: an outside fire pit, an inside wood-burning fireplace and a gas fireplace (there's no better way to start the day off right than getting up on a chilly morning and enjoying your coffee in front of an "instant-on" gas fire).
And although I've never met a fireplace I didn't like (well maybe there were a few fugly ones), very rustic or very contemporary fireplaces are what I like best. I think they have the most character.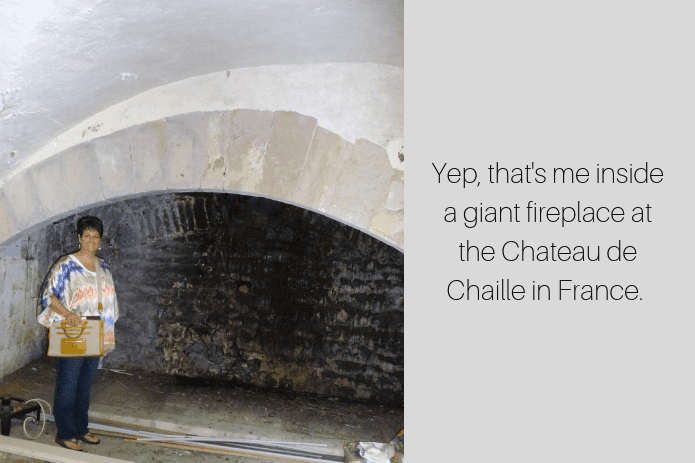 Mantels are super important, too. They can make or break the look of a fireplace. Why not try a custom live edge mantel (I know just the place to get these), metal rather than wood, or even a large piece of stone? The options are endless.
Here are some amazing fireplaces that may help stoke the embers of creativity.
Two more completely unique and awesome fireplaces! The first one resides in a contemporary home in Russia. The second is a raw steel masterpiece in a new Mexico ski lodge.
Log cabin fireplace perfection in the Catskills.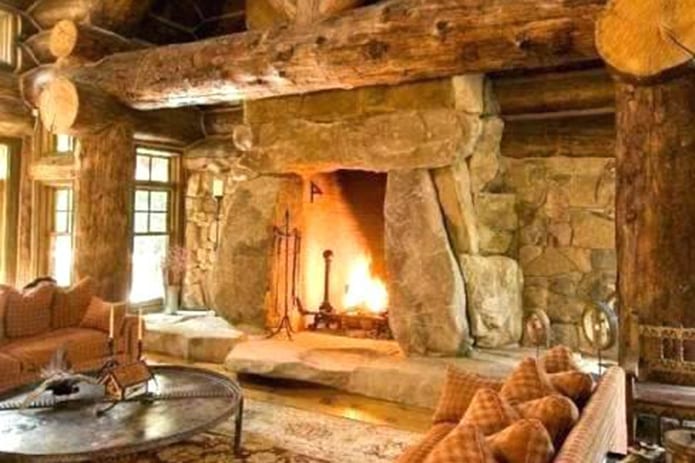 We designed this award-winning fireplace surround to mimic the bookcase squares in a new home in Clayton.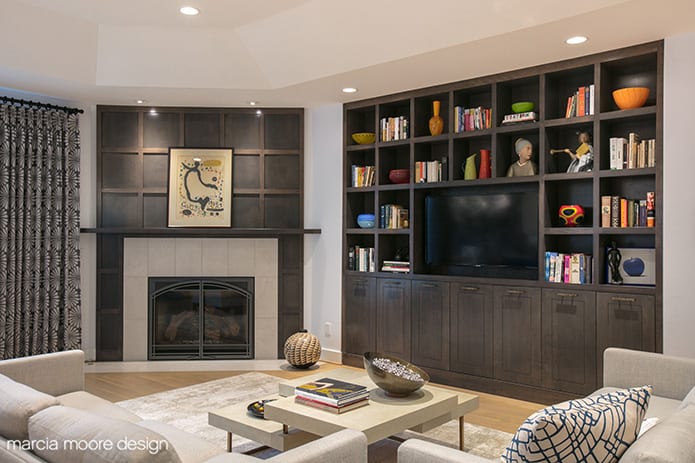 Who doesn't love a fireplace in the dining room?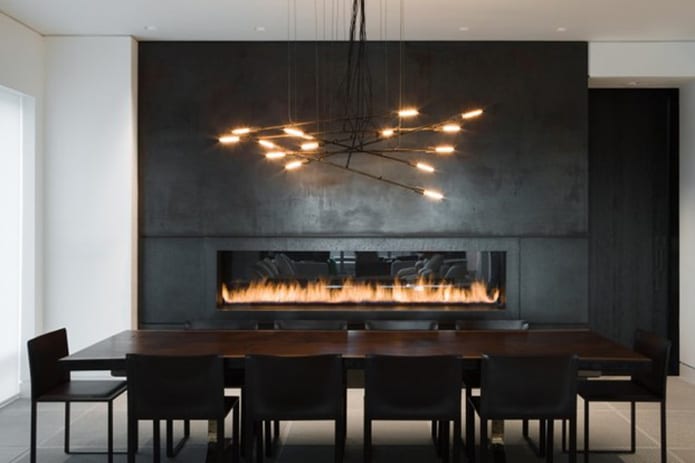 A midcentury remodel we completed for a client includes a striking stone fireplace in the elegant living room.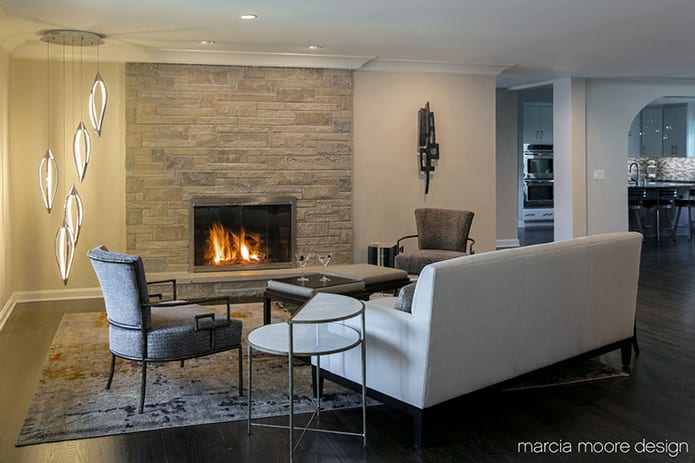 Two completely different and unique fireplaces! The first combines glass tile and metal panels and the other is done in a sensational slate! Rustic and refined perfection.
Another completely original fireplace. How cool is this?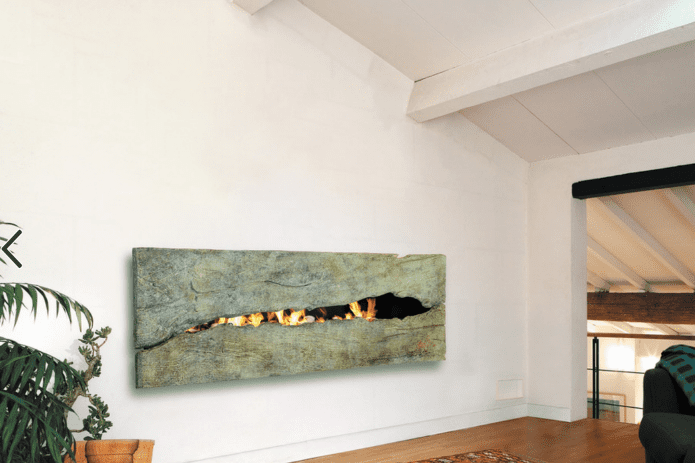 When fireplaces become artwork! The first is the focal point in a room surrounded by windows, and the second is an incredible stone fireplace surround  hand-constructed in a swirling mosaic pattern reminiscent of Van Gogh's "Starry Night." It was created by Ancient Art of Stone for a bedroom in a one-of-a-kind mountaintop home.
Two more commanding fireplaces. In the first, a classic expanse of marble commands the entire wall and looks super chic above the low, horizontal contemporary fireplace. The second, a fireplace is surrounded by snowy white tile in the master bath. Not sure I'd ever want to leave!
Don't have a wall for a fireplace? No worries! A fireplace can literally be the "center" of attention in a room, and even hang from the ceiling!
And finally, how amazing is this! A fireplace designed to look like a tree or bush is on fire.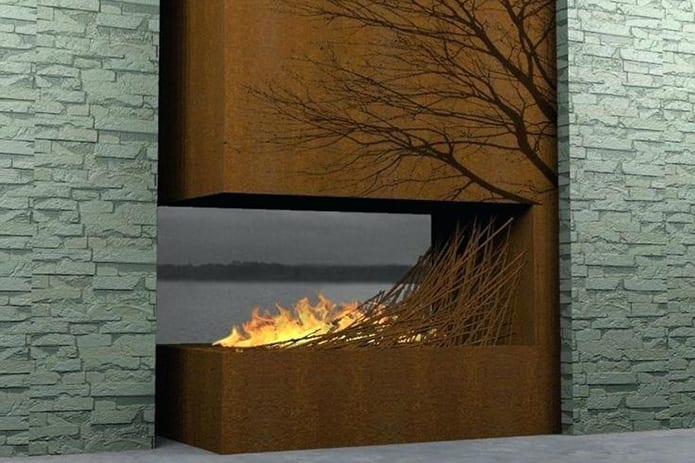 So what do you think of these "out of the fire box" fireplaces? Have a favorite? Let us know in the comments below. And if you're feeling inspired to get the embers glowing in your home, give us call at 314.395.1114 or CLICK HERE to contact us. We can help take your fireplace from plain Jane to pretty awesome!