Blue is the quintessential color of summer.  It is also a design trend this year.  Think sky blue, ocean blue, robin's egg blue (an iconic color for porch ceilings), denim blue, turquoise, aquamarine, naval blue, marine blue, blue hydrangea, seaglass blue, indigo blue, cobalt blue, periwinkle blue, Blue Ridge Mountains, lapis blue, bluebells, peacock blue.  So many blues to choose from.
The dictionary defines "true-blue" as "unwaveringly loyal or faithful, staunch, unchangingly true." That's how we feel about this always perfect color. You can count on blue, no matter the shade. It's classic, yet fresh; of the moment, yet rooted in tradition. It can be bold and dynamic or quiet and soft.
Here are some interior spaces that show you a few of the many different ways you can add just a touch or a whole lot of blue to your home.
Of course, if none of these blues is what you are looking for, maybe you need a little Tiffany blue in your life.
Designed to mimi a Tuscan sunset, this dining room's deep blue upholstered chairs are the perfect complement to the warm walls and faux painted ceiling. Buon appetito!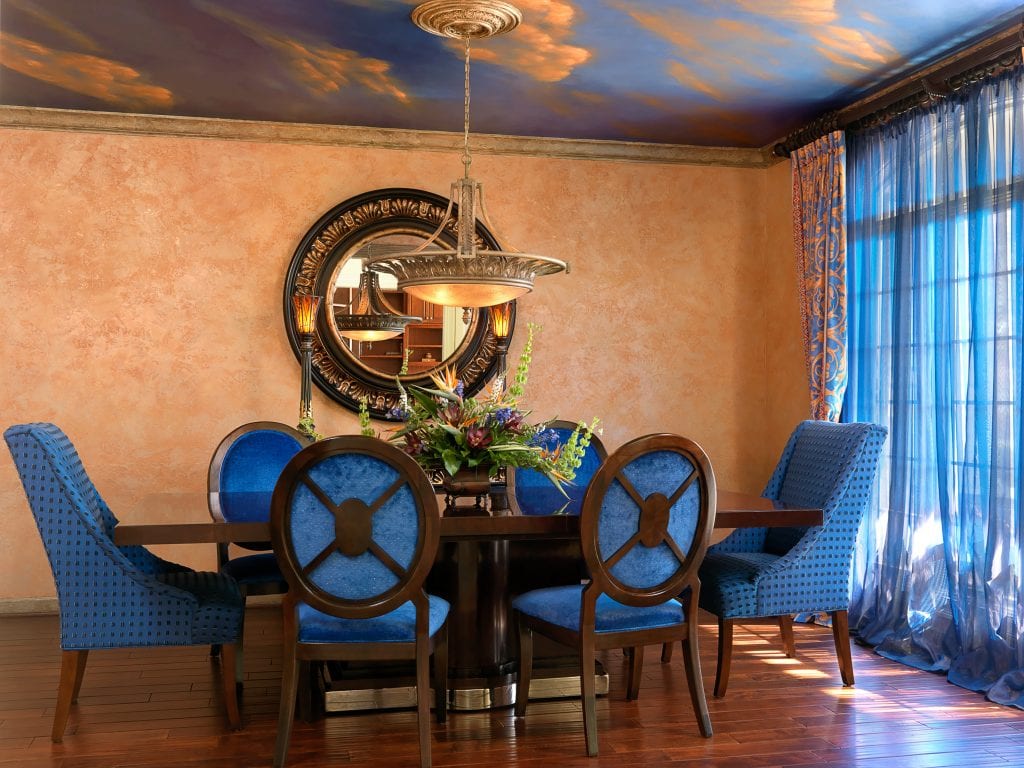 This light blue grey painted vanity is the ideal finishing touch to a spa-like master bath retreat.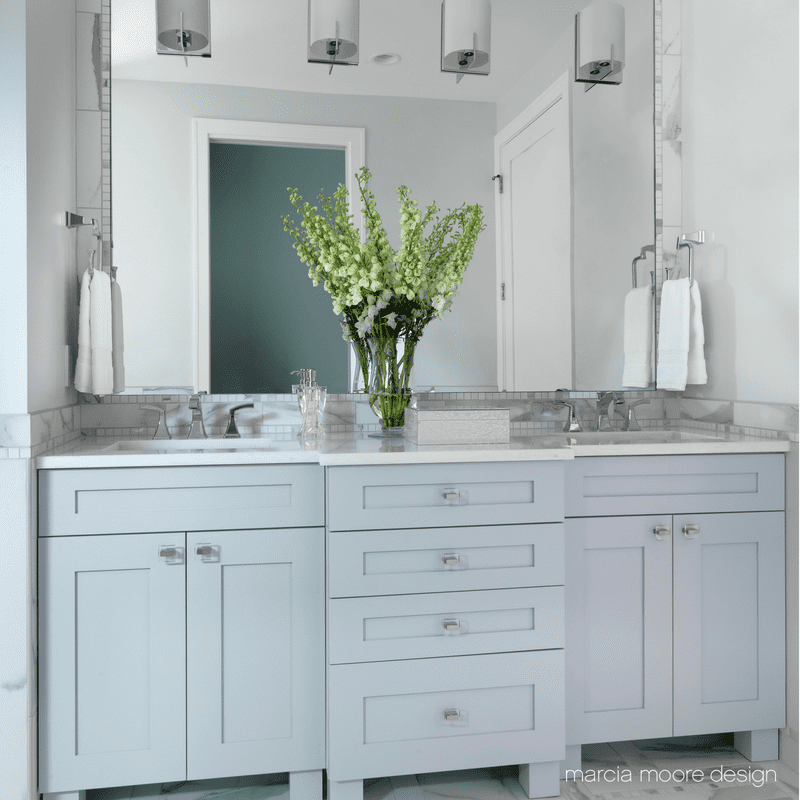 Can't commit to a whole lot of blue just yet? Try adding a striking marine blue and white patterned area rug like this one to your room and see how it makes your space come alive!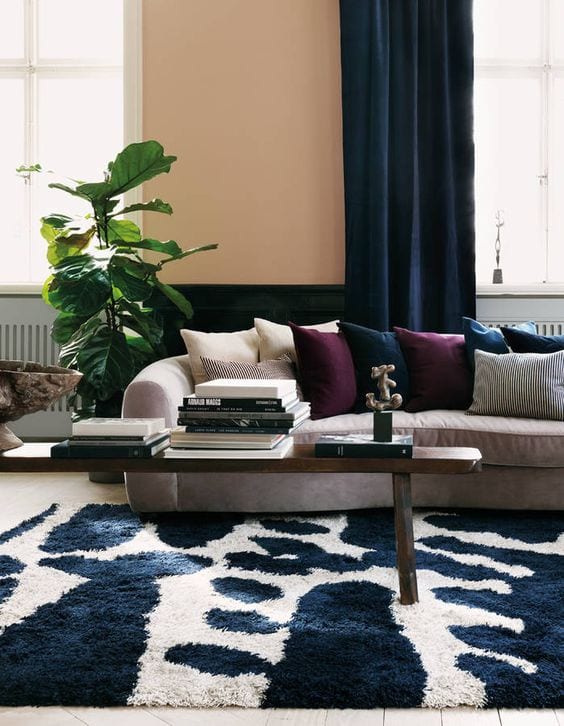 Blue and white is always right. It's a classic combo that never goes out of style.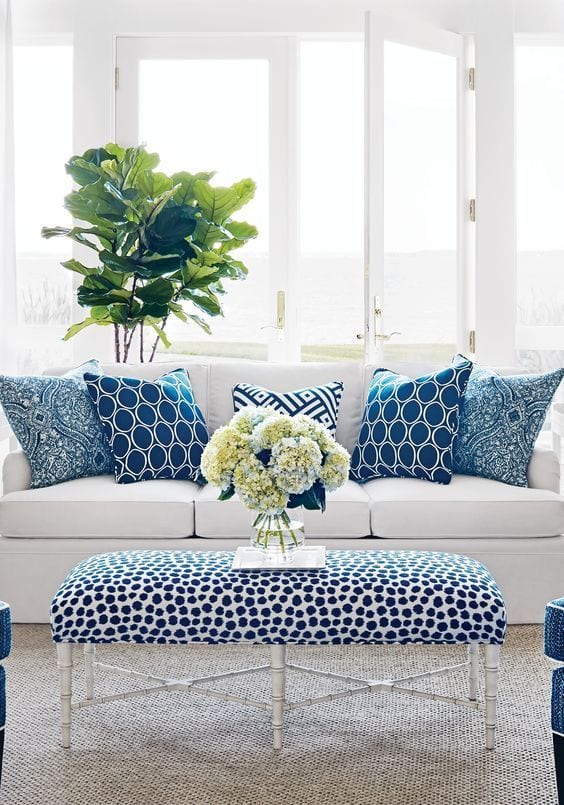 Like something from your dreams, this architecturally interesting hallway layered in electric blue is shockingly beautiful.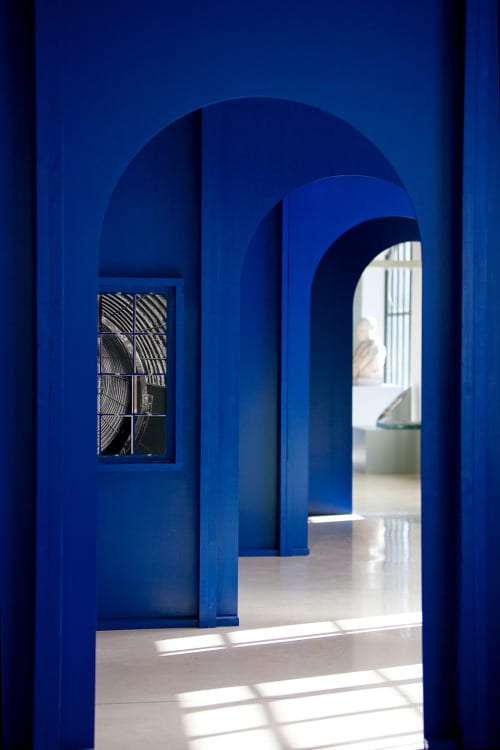 Teal is a chameleon hue that rides the fence between blue and green. Reminds me of the ocean, what about you?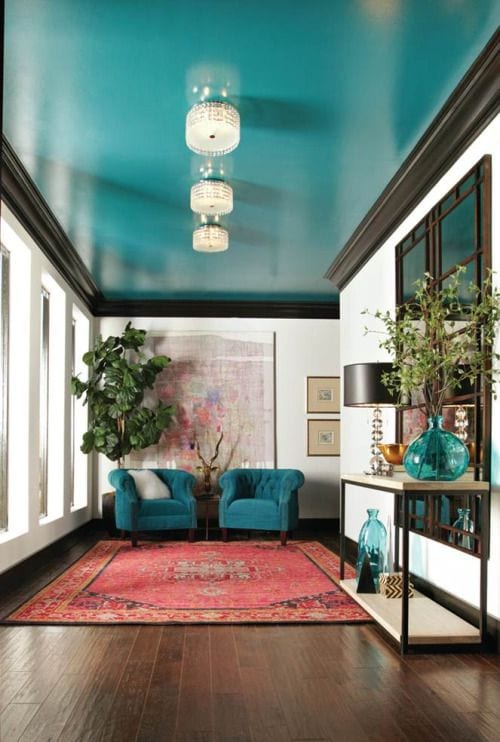 A shower wrapped in gorgeous blue hexagonal tile? Yes, please.
This bright blue island takes center stage in this brand new kitchen against a neutral black and white palette.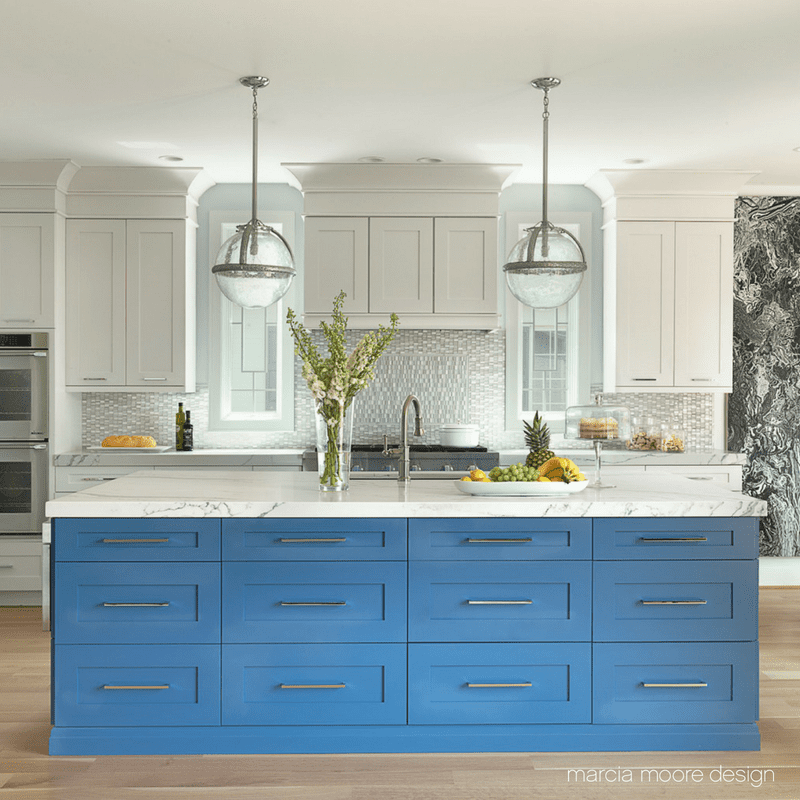 Like a breath of fresh air, light blue shutters on this sleeping porch couldn't be more perfect.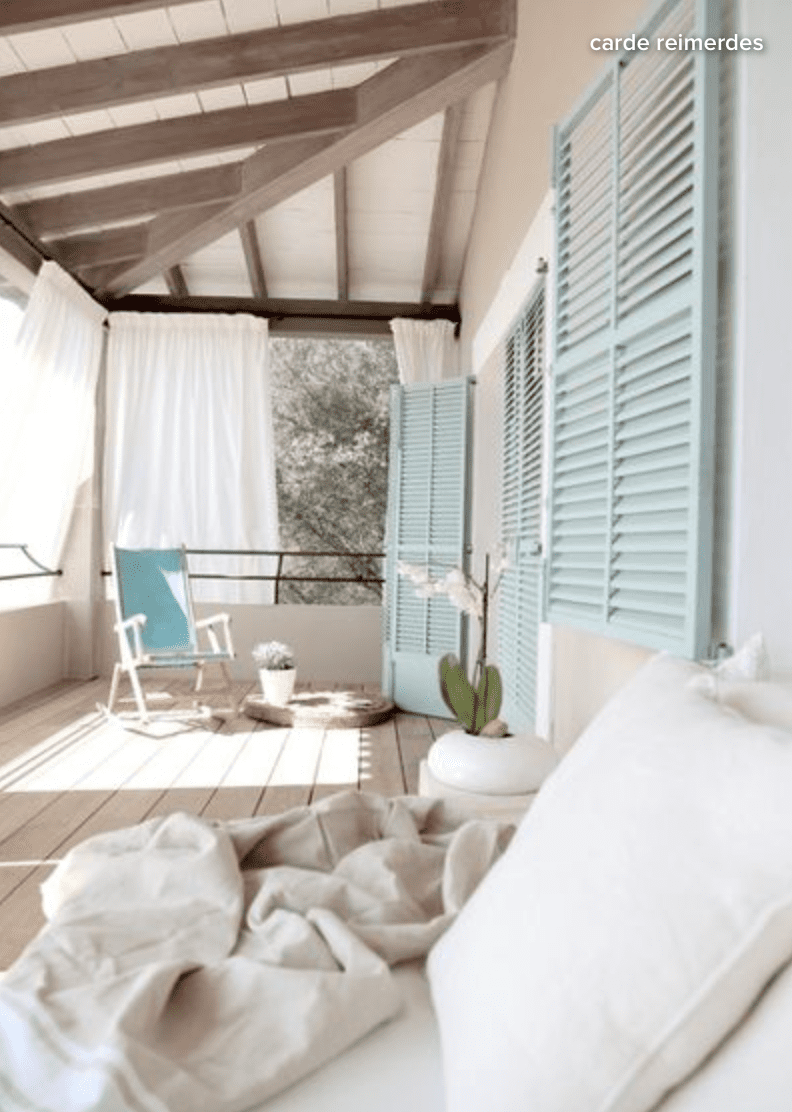 This navy blue monochromatic hallway is dark, moody and yes, just a little bit sexy.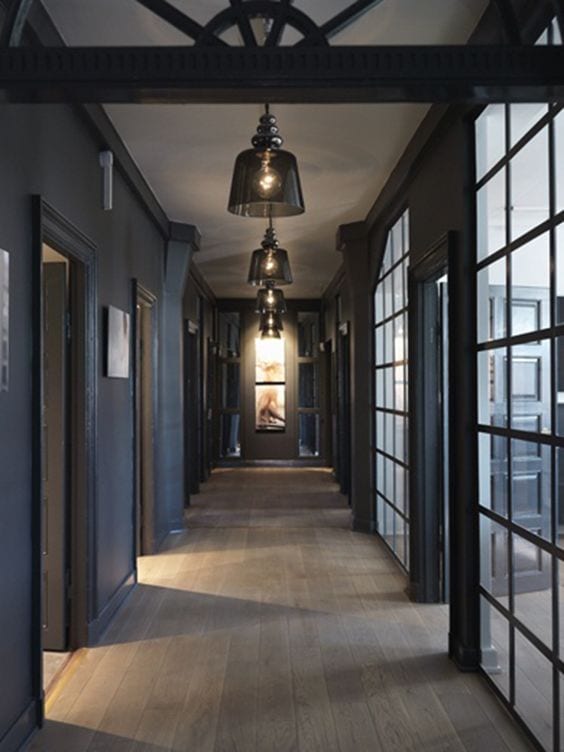 Mirror, mirror on the wall…this is one of my favorite mirrors of all. Just stunning!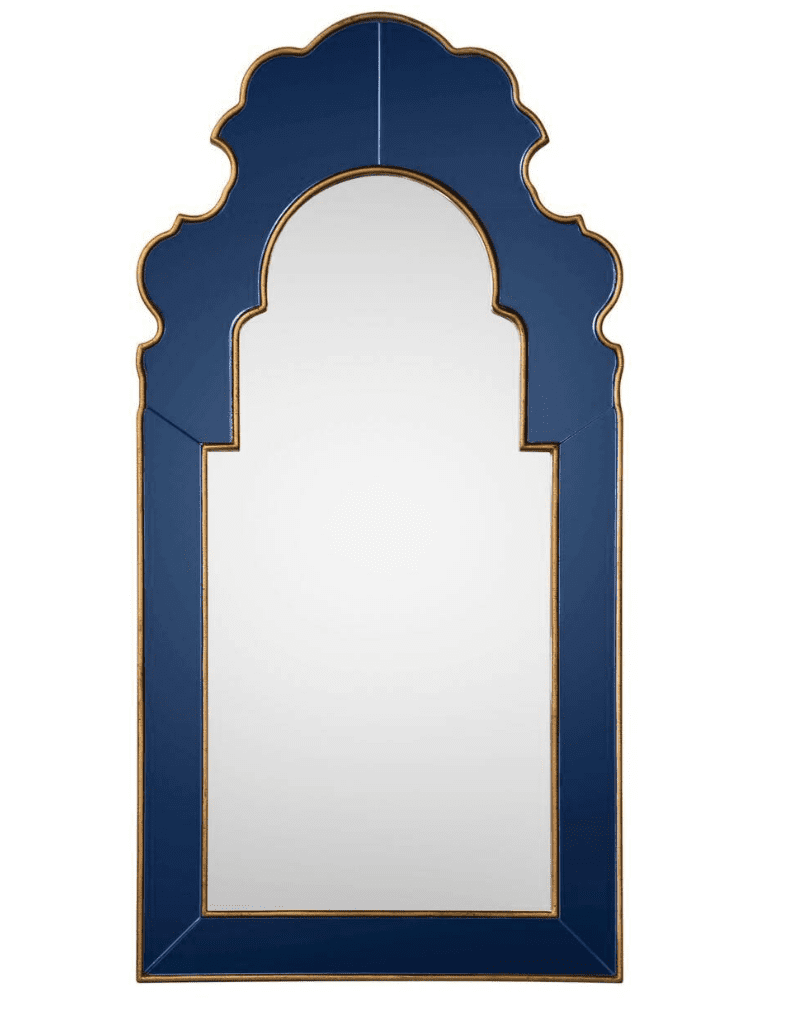 Pops of blue find their way throughout this home in accessories, art and paint.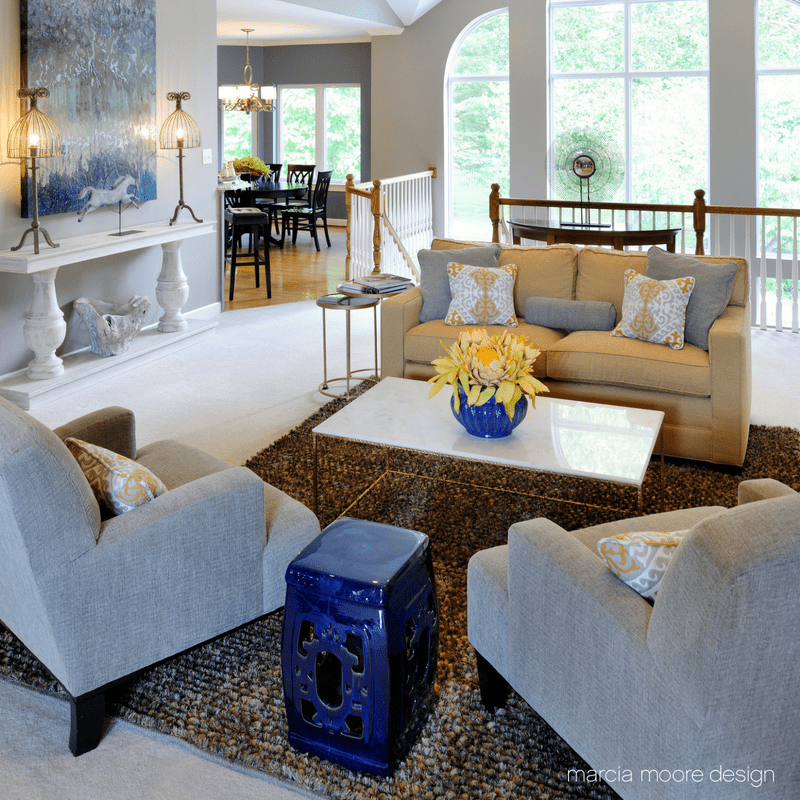 And finally, this fabulous wallpaper by Phillip Jeffries called "Fade" in Sea Spray is about to be installed in one of my client's master bedroom. I can't wait! Looks like the lazy summer surf underneath a blanket of clouds. Dreamy.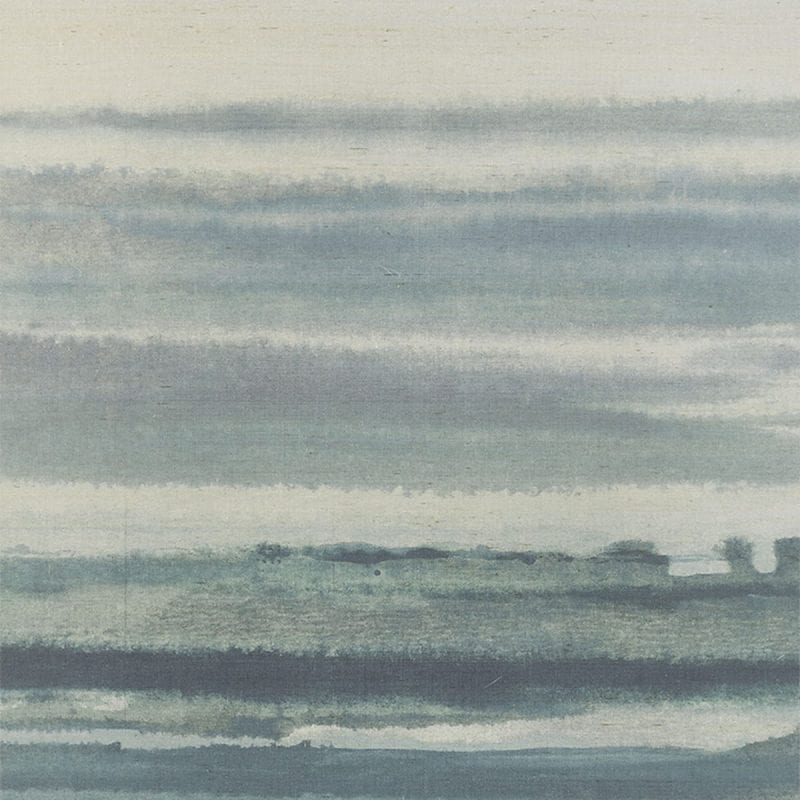 It's our job to make sure you get exactly the right blue for your space, whether it's in paint, fabric, art or accessories. After all, the blues shouldn't get you down. As Irving Berlin so aptly wrote, "Blue skies smiling at me. Nothing but blue skies do I see."
So what do you think? Are you singing the summertime blues yet? Let us know in the comments below! It's important to keep in mind that not all blues work in all rooms, so if you're ready to add a jolt or even a whisper of this favorite hue into your home, give us a call at 314.395.1114 or CLICK HERE to contact us.