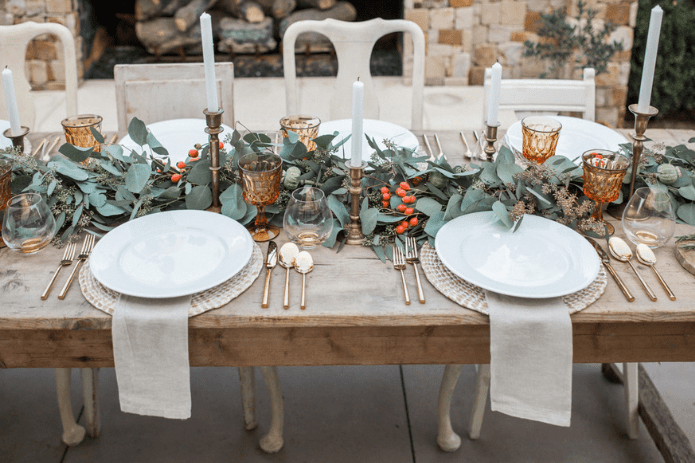 "Gratitude unlocks the fullness of life."  
As Thanksgiving approaches in a world that continues to be wonderful and horrible and muddled and special, I am reminded of what to me is the very essence of the day:
– do not take anything for granted
– take time to show appreciation to friends, family, clients and colleagues
– appreciate how truly blessed I have been in this life
So to my family that I love and to my friends (the family I have chosen), thank you for showing up and supporting me and being all that you are.  I could not survive without you.
To my wonderful clients and colleagues, thank you for making this a year full of blessings.  I realize that every one of you has more choices than you can digest.  After many years in business, I may have earned the right to be considered, but every day I have to earn the right to be chosen. I try to ground myself daily with this principle and truly appreciate your trust in Marcia Moore Design.
You all are the reason I am here, and I look forward to continuing on this journey with you.
Have a great Thanksgiving holiday.
With my deepest gratitude,
Marcia
P.S. Do you have your table set and ready for tomorrow's feast? If you don't have a clue where to start, or even if yours is ready to go but could use a few more strokes of design genius, here are some tablescapes that I find inspiring. Maybe they will inspire you, too. Enjoy, and Happy Thanksgiving!
Two beautiful examples of small space style and how to layer a tabletop to perfection.
Rustic elegance outdoors and inside.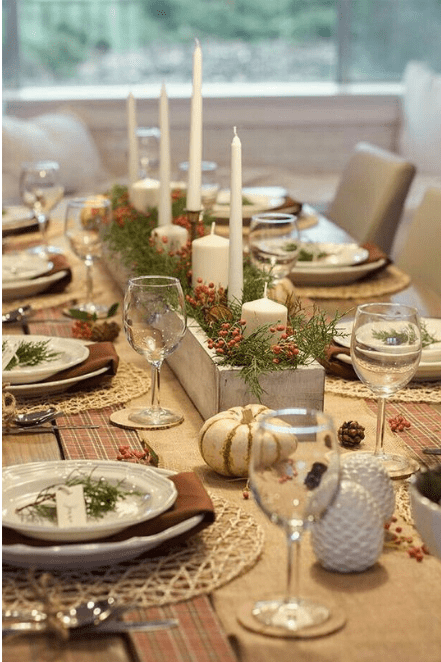 Fresh, seasonal fruit, such as persimmons, pomegranates and apples mixed in with flowers and greenery, makes a simply charming table runner. And of course, for Thanksgiving (or any fall tablescape), pumpkins are a natural choice.
Thanksgiving "trees" made from branches and a pumpkin filled with a combo of fresh and dried flowers are great ways to bring nature to the table.
Love black and white? It works for Thanksgiving, too, especially when paired with golden cutlery.
And just white is just right. Loving how elegant these white pumpkins on the white plates pop against the greenery.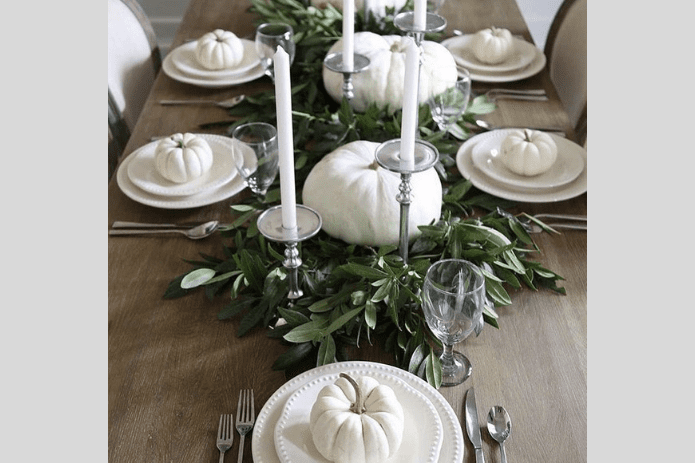 I hope we inspired you to make your Thanksgiving tabletop extra beautiful and memorable this year. And if you need help after the holidays making your home more beautiful and memorable, give us a call at 314.395.1114 or CLICK HERE to contact us.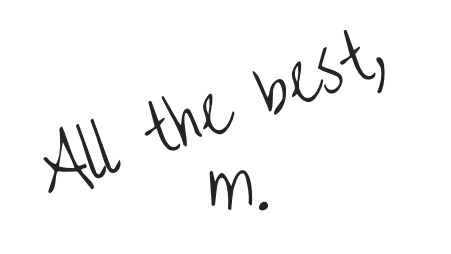 P.S. If you liked this post, please SUBSCRIBE BELOW to receive our weekly posts directly to your inbox.
P.P.S. CLICK HERE to check out our portfolio and HERE to read what our clients have to say about us.