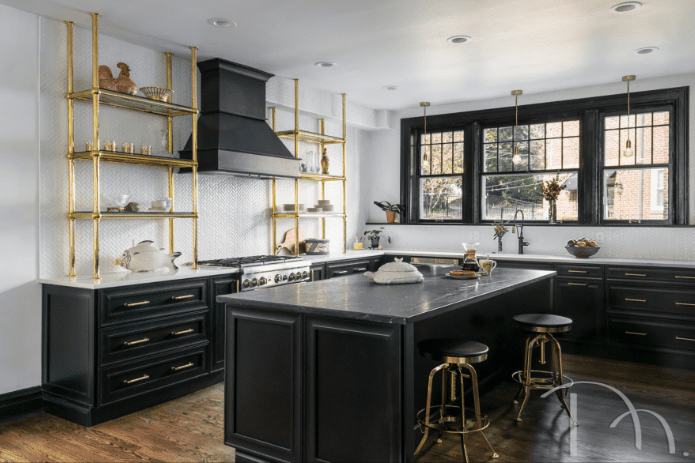 Built in the early 1900s, our clients' home was full of charm but also full of challenges. Topping the list of "must-do immediately" renovations was the kitchen, which was not so charming. In keeping with the age and style of the home, our clients wanted to create a swanky, sophisticated, moody space reminiscent of the 1920s style of décor.
Karen Dubinsky, one of Marcia Moore Design's talented interior designers, was excited to lead the charge in this reno which pushed her clients to trust Karen's design instincts and vision. Taking the space from soulless to swanky meant thinking outside that proverbial box everyone talks about.
The homeowners' classic, yet eclectic taste was the ideal foundation on which to create the new space which embraces Art Deco-ish design elements, such as a dramatic black and white color scheme with pops of shiny brass.
Needless to say, our clients were over the moon about their new kitchen. We think Mr. Gatsby would approve, too.
Boring, bland and boxed-in, this kitchen was in desperate need of some major TLC. Karen rethought the entire room, removing walls and transforming what was once an enclosed four-walled space into an open, spacious U-shaped kitchen. Adding an island kept the homeowners from losing valuable cabinet storage.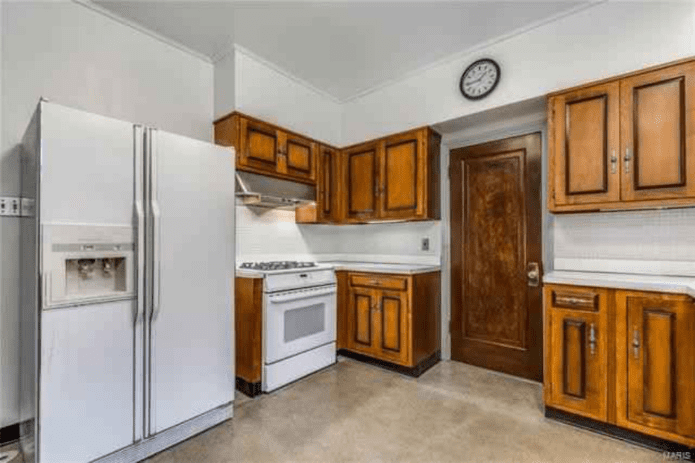 This dramatic renovation challenged the homeowner to move just outside their comfort zone but still honors their personality and style. With a little encouragement from Karen, the homeowners agreed to paint all of the trim black, a powerful design move that creates melodrama in the space.
The heavy brass shelving is elegantly balanced by the graceful cut crystal light bulb pendants and the small scale white herringbone backsplash.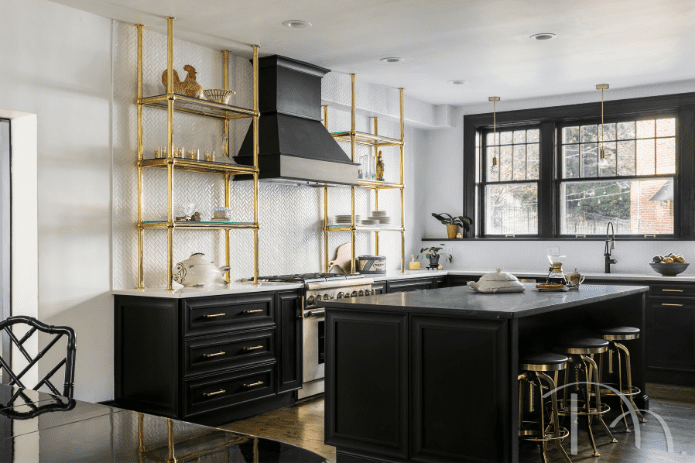 To support the weight of the brass shelving, Karen continued the brass rods from the countertop to the ceiling creating vintage, bakery-style shelving which she styled with the homeowners own collection of past and present treasures.
The attention to detail continues onto the island, which is a gorgeous soapstone with beautiful white and pink veining.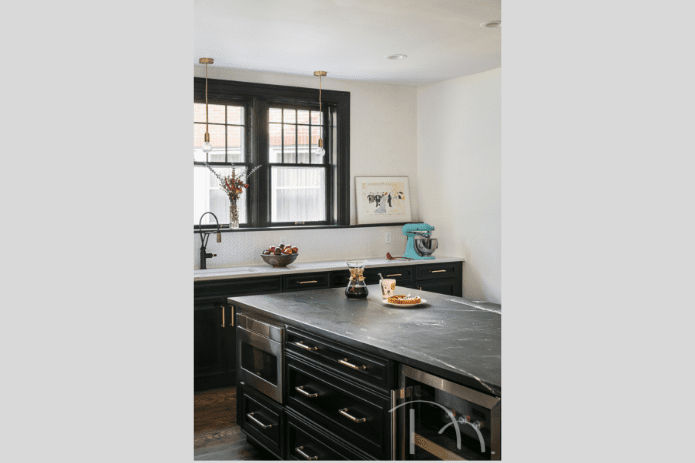 We love how Karen was able to take this nondescript space and transform it into a beauty that pays homage to its past while celebrating its present and looking forward to its future.
What about you? Are you ready to remodel? We specialize in kitchen and bath and whole house renovations. Give us a call at 314.395.1114 or CLICK HERE to contact us.