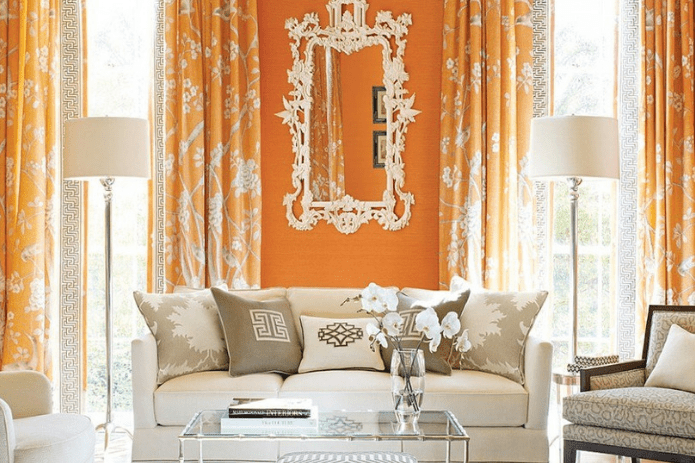 Mary MacDonald for Schumacher
"Orange is the happiest color."   – Frank Sinatra
It's finally fall (on the calendar at least), and we couldn't be happier. Don't get me wrong, we love summer, but the thought of cooler temps, warm fires and a glass or two (or three) of a robust cab are sounding pretty luscious right about now. We are also excited about bold, vibrant, hot fall colors, especially orange! Orange is a color that is all in, you know what I mean?  It makes you sit up and pay attention. It's happy, joyful, uplifting, playful, energetic and optimistic. It's the color of falling leaves, pumpkins, sunsets, marigolds and marmalade. Orange is mango, copper, persimmon, burnt sienna, citrus orange and blood orange. Orange is the color of the season. And we're loving it.
So how do you use this happy color in your home?
Orange works great in a contemporary setting.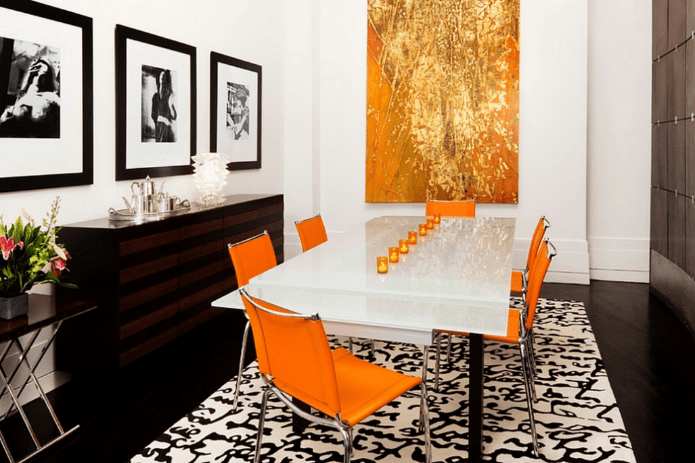 And is equally at home in a more traditional room.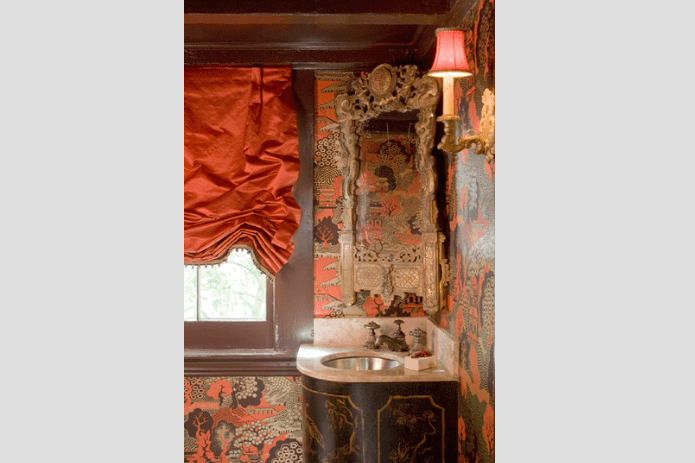 Sometimes a little goes a long way with orange. Just look how this vibrant rug punches up the pastel feel of this space.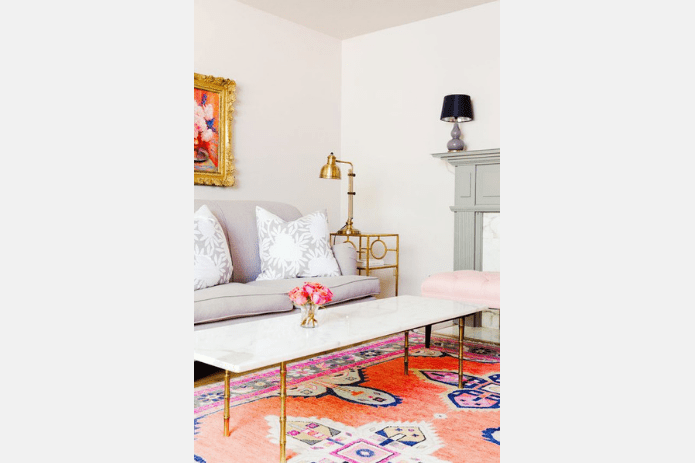 And sometimes orange can take center stage! You'd certainly wake up quickly in this bathroom!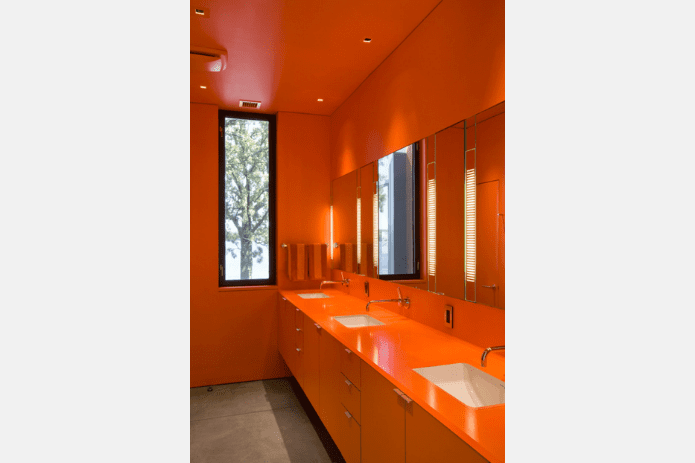 Orange can be dark and moody like this burnt sienna velvet sofa and ottoman. Or it can be bright, vibrant and literally bounce off the walls.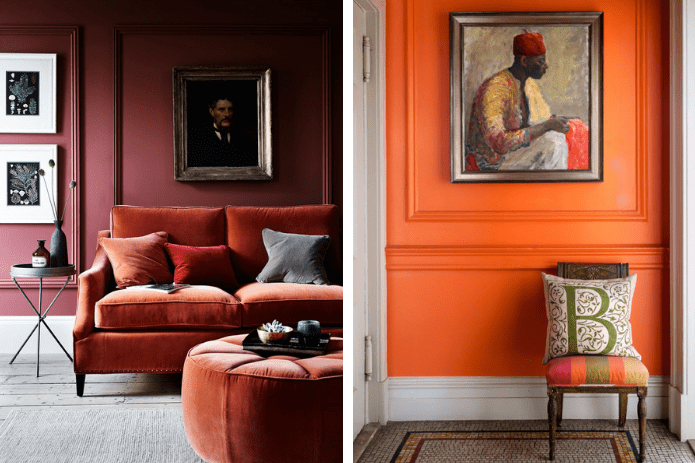 Orange can be used as an accent and plays well with other bright hues. Or it can make a bold statement all on its own.
Orange brings warmth to a cool grey room.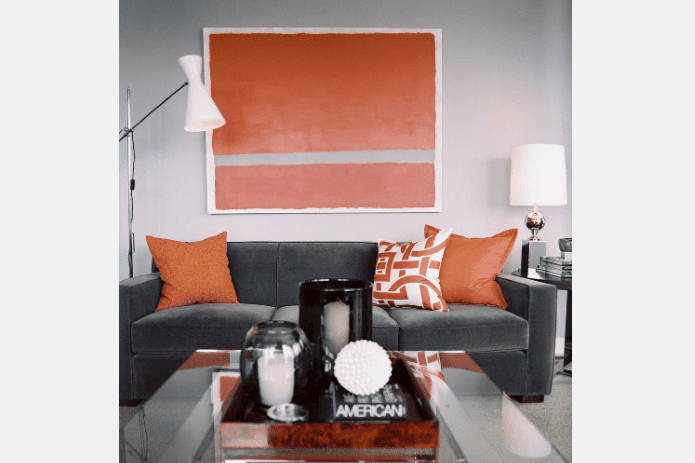 It's the perfect foil for fuschia.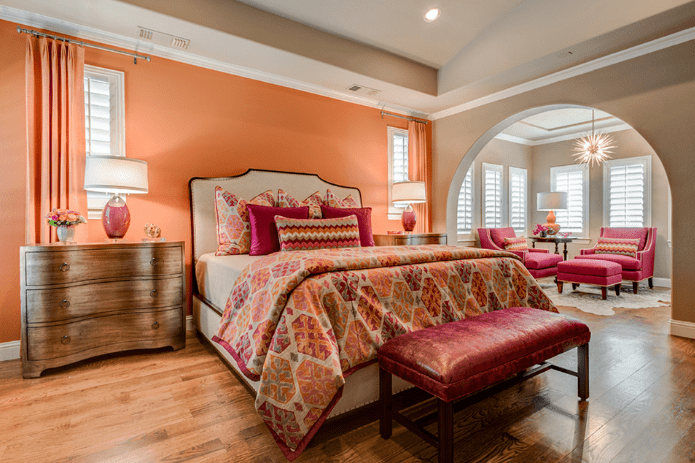 Of course, we can't forget orange and blue… a classic combo.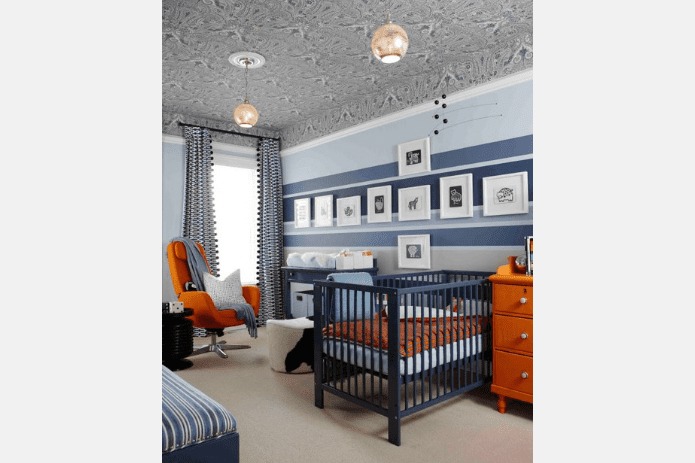 Appliances are even jumping on the orange bandwagon. Doesn't this orange range look great with these mint green cabinets?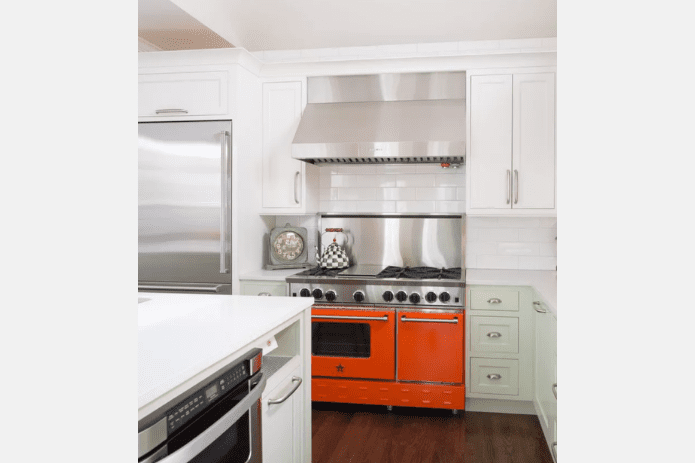 So what do you think? Have you fallen for orange yet? Let us know in the comments below.  And if you'd like to give orange a try but are having trouble picturing this happy hue in your home, give us a call at 314.395.1114 or CLICK HERE to contact us. Color is our specialty. Orange you glad?