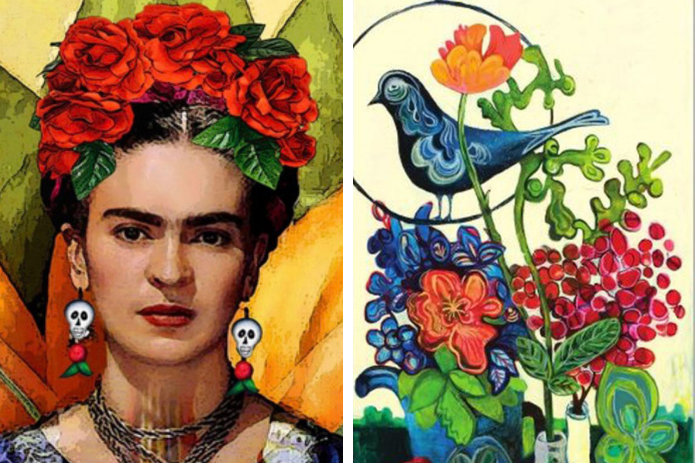 "I paint self-portraits because I am so often alone…because I am the subject I know best."
Frida Kahlo
Frida Kahlo, a Mexican surrealist painter born in 1907, was a feminist before feminism was really a thing. She, herself, was her favorite subject. In fact, nearly one-third of her body of work are self-portraits, which portray a woman who suffered a turbulent life, a passionate but destructive marriage, and who identified with both men and women in her looks and clothing. Frida was a female role model for women artists and made it okay for them to express their pains and frustrations through their art.
A recent article in Architectural Digest talks about how Frida's "distinctive Tehuana clothing (native to Oaxaca), unibrow, and bright red lipstick were more than just a fashion statement; they were a political statement that is reflected in her paintings, and one that still challenges us today."
Inspired by Mexican folk art, Frida's work is vibrant and colorful and at the same time pays homage to nomadic, primitive forms, which surprisingly speaks to many of the design trends today. Her art is eclectic and modern but with a sense of history that makes it interesting and timeless. I would love to find the perfect home to place a piece from this iconic artist.
Frida's marriage to famous national painter Diego Rivera was wrought with both a fierce love and devastating pain at his many affairs. Here is the studio in Coyoacan, Mexico where Frida and Diego worked together.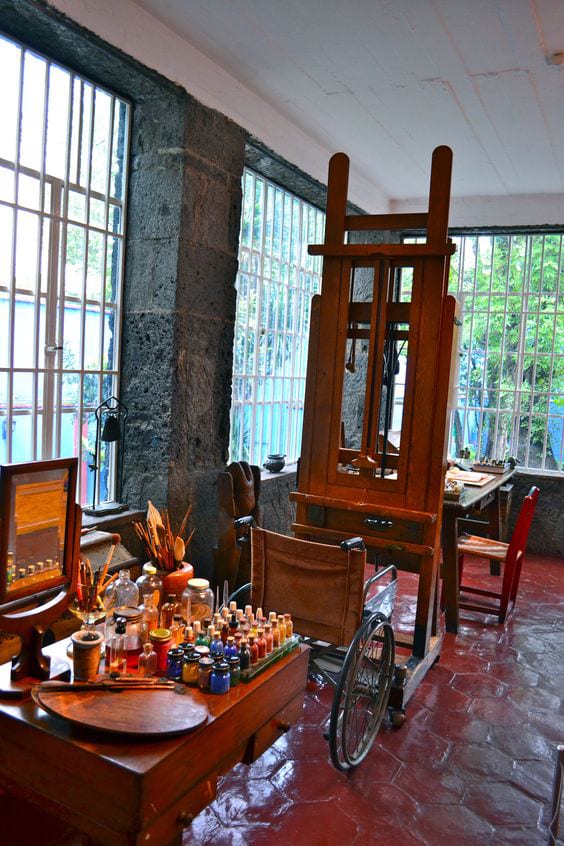 Kahlo standing next to an agave plant for a Vogue photoshoot in 1937.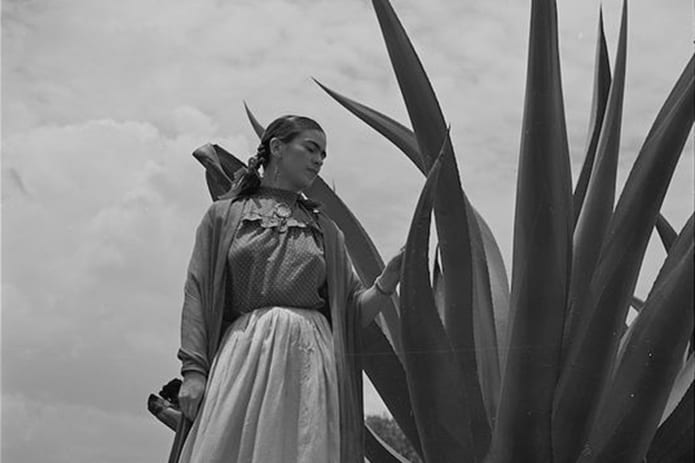 Kahlo's colorful wardrobe celebrated her appreciation of Mexican culture. Many of the nearly 300 pieces on display in Kahlo's museum and former home, La Casa Azul, in Mexico City, are still paint-stained and smell of her perfume and cigarettes.
Following are just a few examples of Kahlo's amazing self-portrait work. Her iconic paintings have been reproduced on fabrics, in poster art and illustration.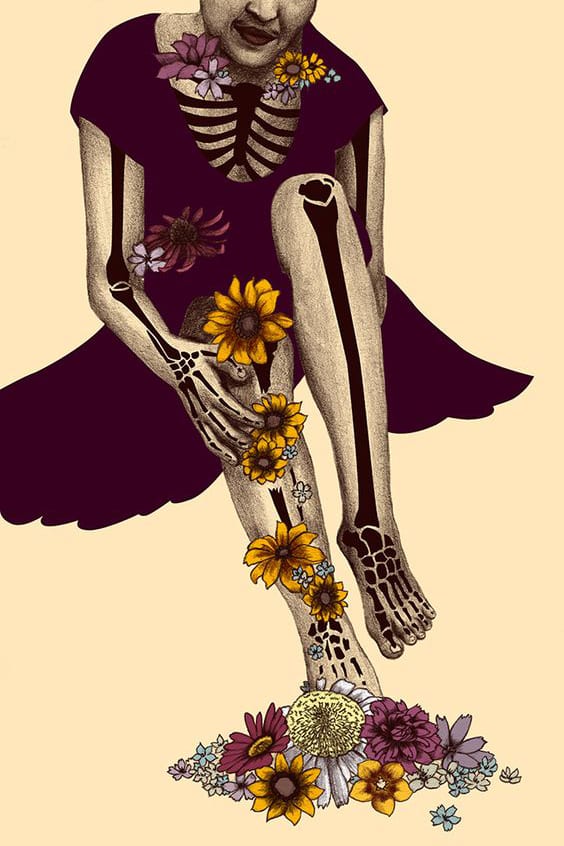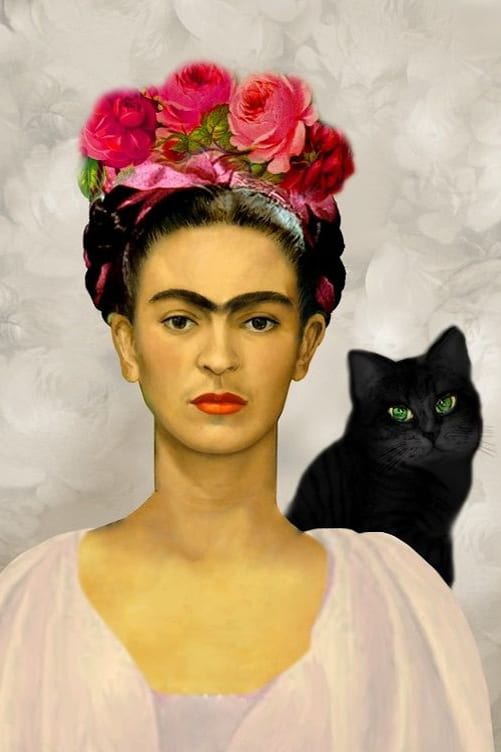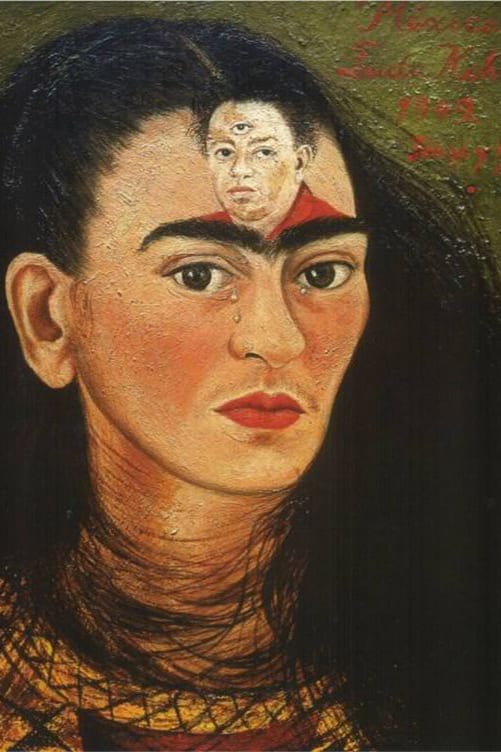 Kahlo's painting "My Dress Hangs There" is available in a reproduction through her Foundation.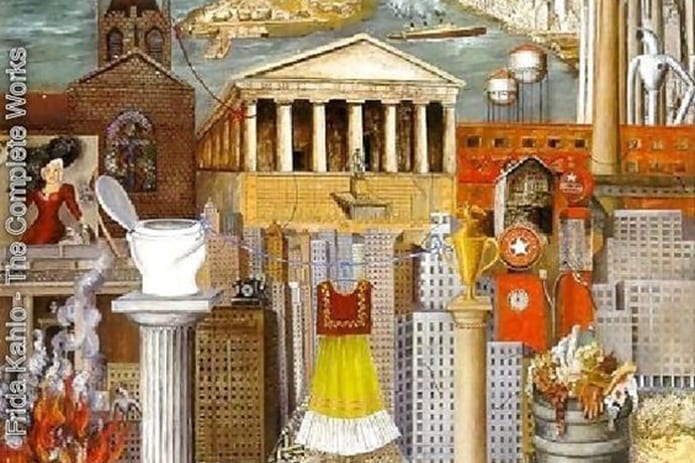 Here are two of Kahlo's still lifes. The first, "Roses", was one of her first paintings and was a gift to her older sister, Adriana.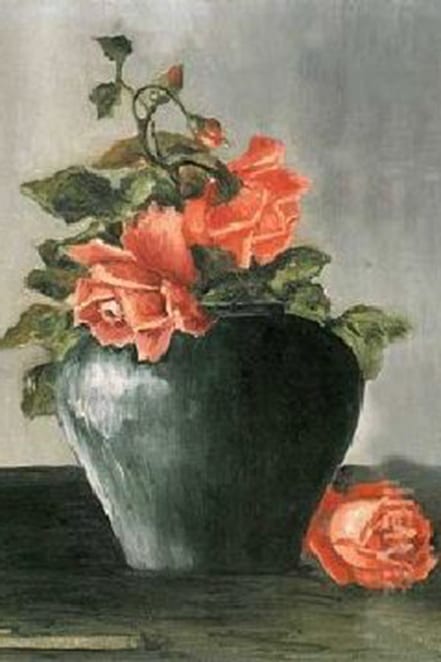 Frida said "Painting completed my life." I also feel that art is extremely powerful. Think of how dramatically a bright red painting will impact an otherwise black and white room. That is how visceral a response our bodies have to a piece of art the first time we see it. Whether it is a love or hate response, art gets to us immediately.
Purchasing art you love will elicit that same response from you every time you come upon it in your home. It will bring a bright spot to your day, no matter how crummy the day has been. Art and pets are the two things that make every home a happy home, in my opinion.
One of the best things about Frida Kahlo's art, and honestly any art, is that it doesn't have to "go" with what you have. Art is a purchase that should be made from the heart. It doesn't have to match your décor.  In fact, it's much more interesting if it doesn't. Art should speak to an emotional place within. It should speak to your soul. If it does that, no matter what art you choose and no matter what type of décor you have, it will always be right.
So what do you think of Frida Kahlo? Does her art speak to you? Let us know in the comments below. Working with my clients to source and place art is one of my favorite things to do when completing a custom home. If you're thinking of building a new home or renovating the one you have, please give us a call at 314. 395.1114 or CLICK HERE to contact us.