Today I'm excited to begin a new monthly series on the hottest design trends of 2018. First up is big, bold, beautiful floral wallpaper. But before you cringe and say "no way, Marcia," trust me, there is nothing grandmotherly about the botanical beauties that are dancing across walls this year. The much cooler cousin of yesteryear's chintz has arrived in fine fashion.
I'm talking dramatic, oversized blooms, in high contrast colors, such as black, white, pink, gold and luscious jewel tones. These striking patterns are powerful statement makers in a room. The grand scale of these flowers takes a commitment, but it's so totally worth it when you see how they can transform a space, taking it from mundane to marvelous. It just goes to prove, there are definitely perks to being a wallflower.
A Powder Room is the Perfect Place to Think Big!
I recently completed a fabulous powder room for a client featuring one of my favorite floral wallpapers, "Summer Lily" by Cole & Son. This magical pattern is very Art Deco in style–bold and graphic. Available in several colorways, I chose the black background to wrap this small space in drama and really make it come alive.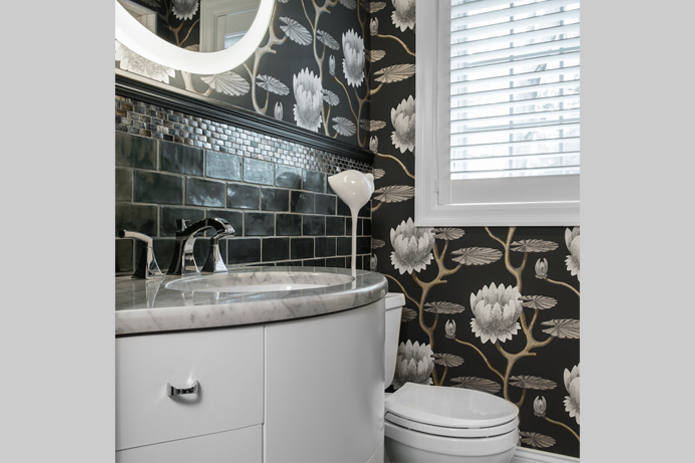 Layering iridescent black subway tiles topped by iridescent mosaics and a chair rail in iridescent black paint add flair and protect the wall from water splashes. A curved vanity keeps the space from feeling crowded, and a round mirror with edge lighting eliminates the need for additional sconces, which would have felt cluttered on the dramatic wallpaper. Photo by Anne Matheis
Where the Wild Things Are
Timorous Beasties (yes, that's really the name) is another one of my favorite wallpaper, fabric and furniture companies. Founded in Glasgow, Scotland with their central showroom now in London, Timorous Beasties has outstanding, unconventional papers and fabrics that push the design envelope in an oh so amazing way. Not for the faint of heart, each of their designs features a special "beastie" in the pattern. And for those who are wondering just what the heck is up with the name? Well the word "timorous" means showing or suffering from nervousness, fear or a lack of confidence. "Beastie" is a Scottish term for animal, insect or germ. Take a look at the patterns, and you'll get the idea 😉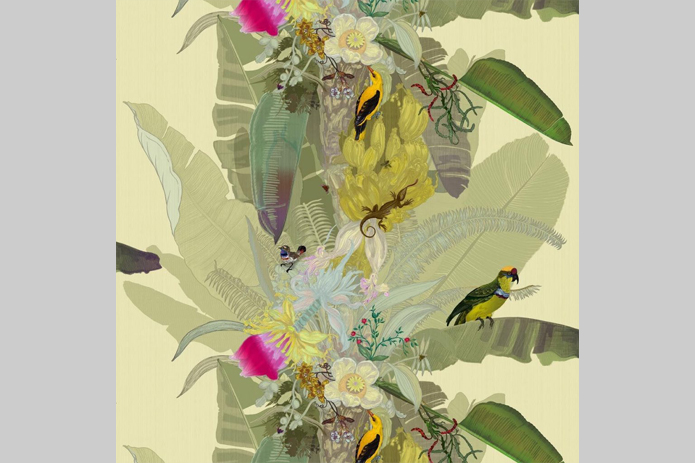 Go Big or Go Home
Dark and moody, dramatic and fearless, lush and romantic, here are two more larger than life floral patterns that splash garden goodness all over the wall.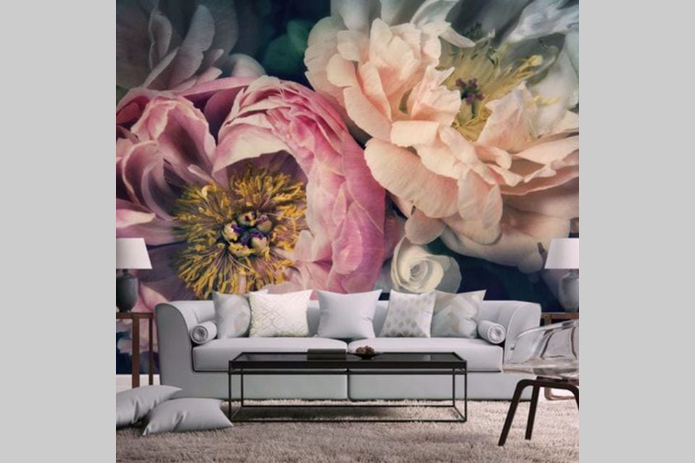 Wow! These gorgeous blooms are so real you can almost smell their beautiful scent. This custom mural based on an original photograph by Australian photographer Helen Bankers is called "Peony."
I love this huge floral arrangement. It's a riot of color and pattern and so joyful. It reminds me of an English garden on steroids. This custom mural is based on the oil painting, "Vase of Flowers" by Dutch artist Jan Davidsz. de Heem.
What about you? Is big, bold floral wallpaper your thing? 
We can help you create your own secret garden! Give us a call at 314.560.0830 or CLICK HERE to contact us.