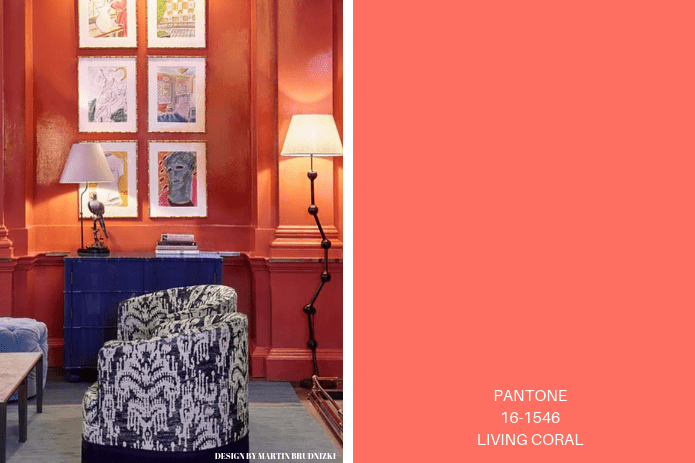 It's award season! No, I'm not talking about the Golden Globes or the Oscars. I'm talking about the Color of the Year! Yes, the annual naming of the hottest hues by the paint companies is much anticipated in the design world. Sometimes we love them, and sometimes we don't, but we always look forward to seeing what colors will be trending, and what colors are on their way out the door.
The PANTONE Color Institute is the grande dame of color reports and forecasts. This year, PANTONE chose Living Coral 16-1546 as it's favorite hue, and the one it predicts will lead the color pack in 2019.
What They Said: "With consumers craving human interaction and social connection, the humanizing and heartening qualities displayed by the convivial PANTONE Living Coral, hit a responsive chord."– Leatrice Eiseman, Executive Director of the PANTONE Color Institute
What I Say:  Now this is a statement color. Such a rich, luscious color on the wall requires another rich hue to complement it. Dark blue to the rescue! Another feature I love in the photo above is how all the walls and trim are the same color, so it works as a backdrop, letting the art take center stage. Even though it's a deep rich color, it is working as a neutral.
Now let's take a look at what colors the paint companies are saying will set our little hearts aflutter this year.
BENJAMIN MOORE: Metropolitan AF-690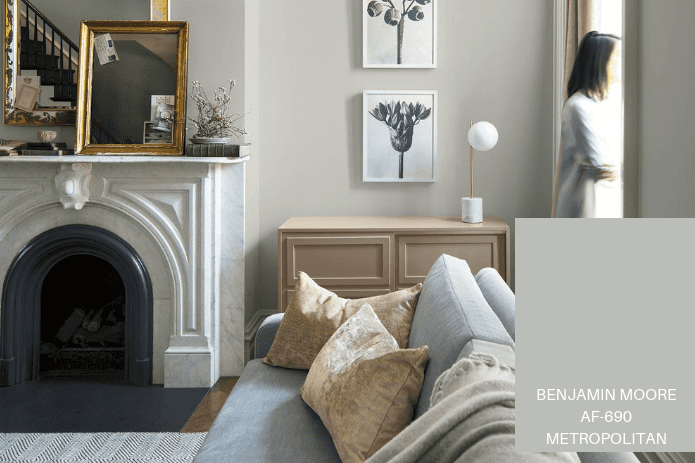 What They Said: "Comforting, composed and effortlessly sophisticated, Metropolitan AF-690 exudes beauty and balance. It's a color in the neutral spectrum that references a contemplative state of mind and design." – Ellen O'Neill, BM Director of Strategic Design Intelligence.
What I Say: Metropolitan is a great neutral for weaning the world away from gray—soft and warm with just a hint of color. The perfect base for the neutral room shown here—notice how the white stands out against it.
SHERWIN-WILLIAMS: Cavern Clay SW 7701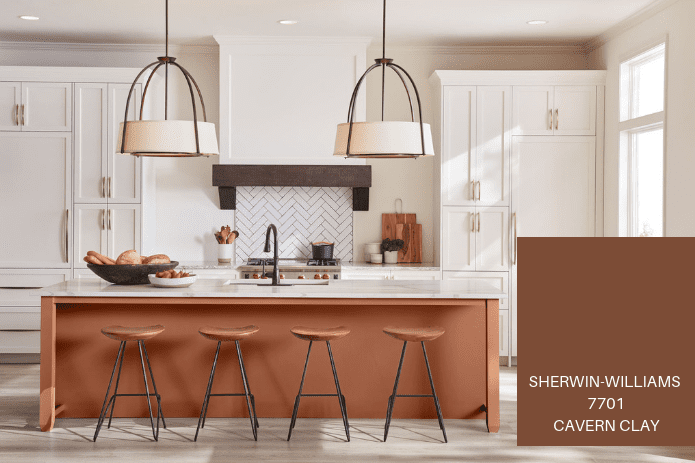 What They Said: "Cavern Clay is a nod to midcentury modern style but with the soul of the American Southwest, which together creates a desert modern aesthetic." – Sherwin-Williams
What I Say: Cavern Clay evokes the Southwestern style perfectly. (I've also heard that style might be coming back into vogue). Very warm, earthy and grounding. It also works so well in this otherwise cream-colored kitchen, again adding warmth, earthiness and grounding the space. Pair it with cream and aqua to soften it, or with black, turquoise and sand for a moodier vibe.
KELLY-MOORE: Peacock Blue KMA 29
What They Said: "From a psychological perspective, Peacock Blue is a color that can optimize concentration, encourage deep meditation and even improve sleep." –Mary Lawlor, Kelly-Moore Manager of Color Marketing.
What I Say: I don't know anyone who doesn't enjoy the quintessential blue and white color scheme shown in this photo. What I like most about this blue is the hint of green in it, not just pure blue. Gives a little pizzazz to the hue, kind of like a peacock!
What They Said: "Our research shows the primary reason people change the color in a room is to create a new mood or feeling for that space. Blueprint lays the foundation for a new beginning—a reimagination of our lives and a representation of what we stand for." – Behr
What I Say: Another blue and white color scheme but with such a different feel than Kelly-Moore's Peacock Blue. This blue is soft, muted and pairs so well with the grey veining in the marble and the rustic dark wood.
CLARK + KENSINGTON: Pineapple Cream Granita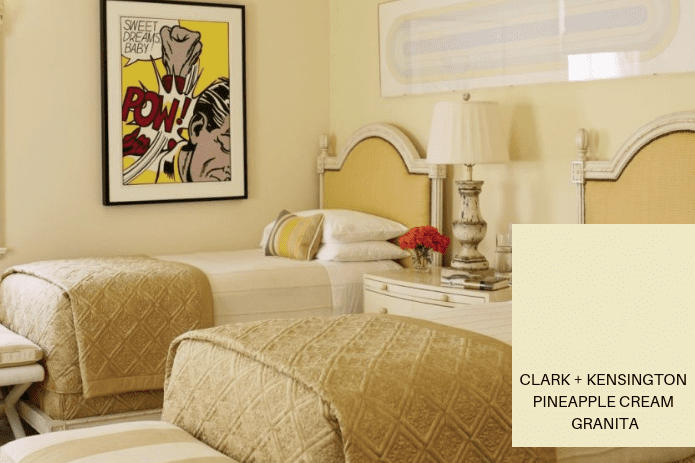 This is too cool! For the first time ever, Ace Hardware invited people nationwide to mix their very own paint color and enter for a chance for it to be named to be the Ace Hardware 2019 Color of the Year. Submissions were judged by a panel of Ace color experts who selected 25 finalists, with consumers leading the ultimate decision process as over 35,000 fans voted for their favorite color on Ace's social media channels. The winning Clark+Kensington color, Pineapple Cream Granita, was created by Francine C., of New Jersey, at her local Ace, Costello's Ace Hardware of Lincoln Park, NJ.
What Francine Said: "When I created this color, I was daydreaming about enjoying a delicious dessert while on a relaxing vacation in Sicily with my daughter." — winner Francine C.
What I Say: I love the name Pineapple Cream Granita! I agree with it's creator, Francine, that it sounds delicious, but I'm leaning more toward a specialty margherita or a pina colada 😉 Either way, I'm in! Notice how well this color pairs with the deep red in the artwork in the photo. This is a favorite color pairing of mine. Very regal. Creams are making a comeback also—a much richer, more layered neutral than gray.
HGTV Home by SW:  Reflecting Pool SW 6486
What They Said: "Reflecting Pool is 'a color of many personalities.' It speaks to our desire to have a life of balance but with a bit of flair." – Ashley Banbury, Senior Color Designer, HGTV HOME by Sherwin-Williams.
What I Say: Reflecting Pool—the perfect color for a beach house front door. So soft, like a gentle wave—so inviting and laid back. Evocative of lazy summer days. Okay, I'm ready for summer!
PPG:  Night Watch PPG 1145-7
What They Said: "Night Watch is about bringing the healing power from the outdoors into your home through color. The dark green hue pulls our memories of natural environments to the surface to recreate the calming, invigorating euphoria we feel when in nature." – Dee Schlotter, PPG Senior Color Marketing Manager
What I Say: Another deep grounding color, Night Watch is sure to make you feel cozy and safe. I love how it sets the stage for blood orange, gold and rose. This room is dreamy—a safe wall color with furnishings that invite you to dream.
DUTCH BOY: Garden Patch 326-5DB
What They Say: "Not too deep and not too primary, this nostalgic botanical hue stands out for its warm and calming effect. Paired with soft neutrals and pops of warm color, Garden Patch offers rejuvenation and peace at the end of the day in every room of the home." – Dutch Boy
What I Say: If the name Garden Patch didn't tell you enough, the flower garden wallpaper surely does. This is a great spring color—reminding us of rebirth and warmer days to come. The mustard gold adds a little sunshine to the mix.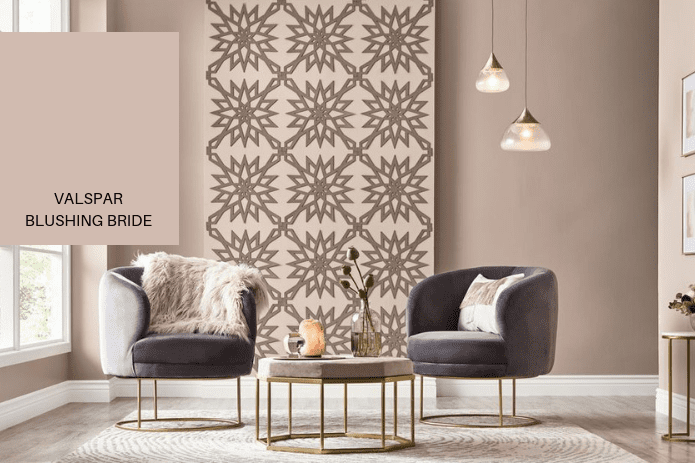 What They Said: "This rosy neutral injects an element of spirituality into everyday life." – Sue Kim, Valspar Color Strategist.
What I Say: Valspar gave us 12 colors to choose from, so we rolled the dice and chose Blushing Bride. I love this pinkish beige as a background for the gray chairs—two neutrals that work well together. If you want to pair it with a dark tone, try deep plum. Yum.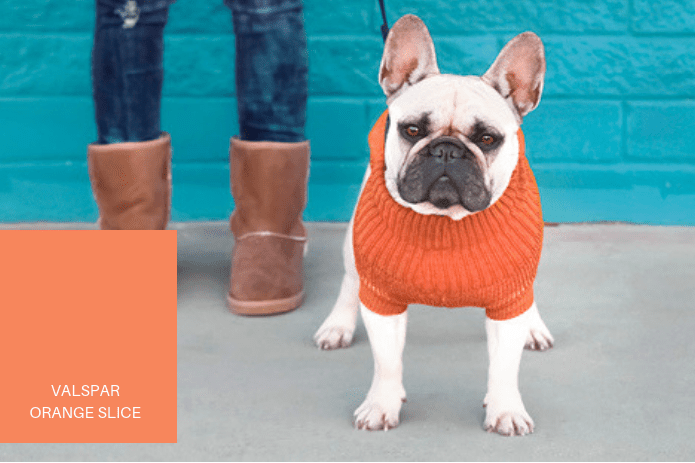 What They Said: "Adventurous orange maintains an artificial intensity that invites an experimental mindset." – Sue Kim, Valspar Color Strategist.
What I Say: Another of the 12 Valspar Colors of the Year, Orange Slice is definitely a commitment color. I love the cheerfulness. Bright colors are coming into their own again after many years of neutrals. Can't commit just yet? Try it on your dog first.
So there you have it, 11 of the top trending paint colors of 2019. What do you think? Will we embrace these hues making them as popular as the paint companies think they'll be? It remains to be seen but each month I'll dig deeper into one of these colors, sharing my thoughts and ideas for using it in your home. Then come December, we'll do a look back to see which colors prevailed and which ones bit the dust.
Are you a betting person? Tell us your favorite of these 11 colors in the comments below, and if we agree that your choice is a 2019 hit at the end of the year, we'll enter you in a raffle to win a special little gift from me.
Color is never an afterthought at Marcia Moore Design, GIVE US A CALL at 314.395.1114 or CLICK HERE to contact us if we can help color your world.