Bohemian or "Boho Chic" is another of this year's trending design styles, and I'm a big fan. Derived from the French word for "gypsy," "Bohemian" refers to those who live unconventional lives…think artists, writers and musicians. And Boho Chic design embraces the ideals of those who dance to a different drummer. It is a carefree, relaxed style that throws caution to the wind and embraces all cultures. This design style works with a neutral palette, black and white or a riot of color. Anything goes when you choose Boho Chic!
And it works well in any room in the house. It's as comfortable in the dining room as it is in the bedroom; works equally well in a front entry or kitchen and would make any lower level teen hangout the place to be. But I especially like this look as a "flop on the couch amidst a plethora of pillows" living room. This would most definitely be the style for my beach home or summer cottage.
The Bohemian design style is definitely not for the faint of heart or for those who embrace minimalism. More is more is more with Boho Chic. Here are a few spaces that have embraced this amazing style in a big way:
SO WHAT MAKES BOHO CHIC, SO CHIC…AND SO BOHEMIAN?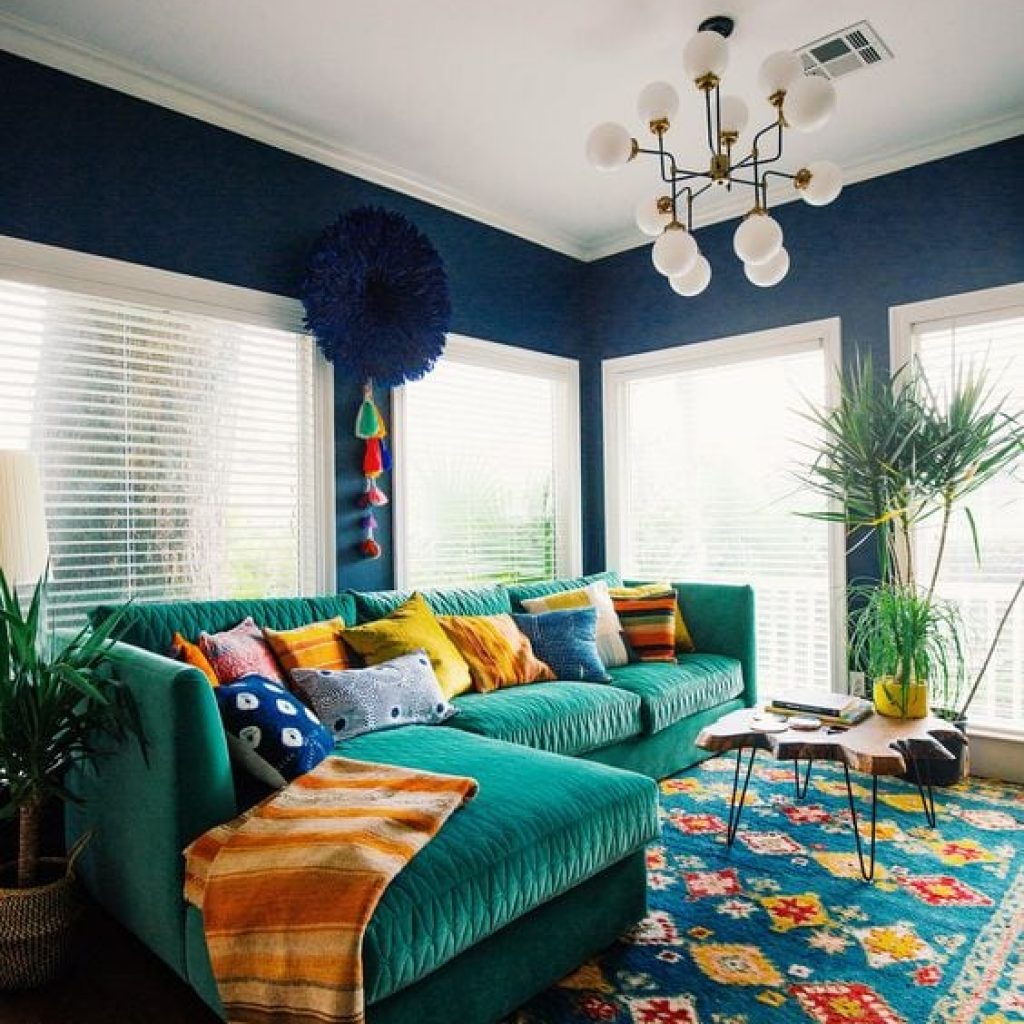 A fabulous rug like this one is often the basis for a Boho Chic room. Notice all the colors, patterns and textures going on here, too. Wools, velvets and cottons play nicely together, and earthy elements, such as live plants and natural woods, like this wonderful coffee table, all scream Boho Chic. And of course those pillows! All those pillows! Ebay
Juju hats like the dark blue one hanging on the wall behind the sofa are often found in eclectic Bohemian style interiors. Traditionally worn by the royal families and chiefs of Cameroon's Bamileke, Tikar and Babanki tribes as ceremonial headdresses, juju hats are crafted of dyed chicken feathers hand sewn to reeds by village artisans and represent a bird's ability to touch the heavens.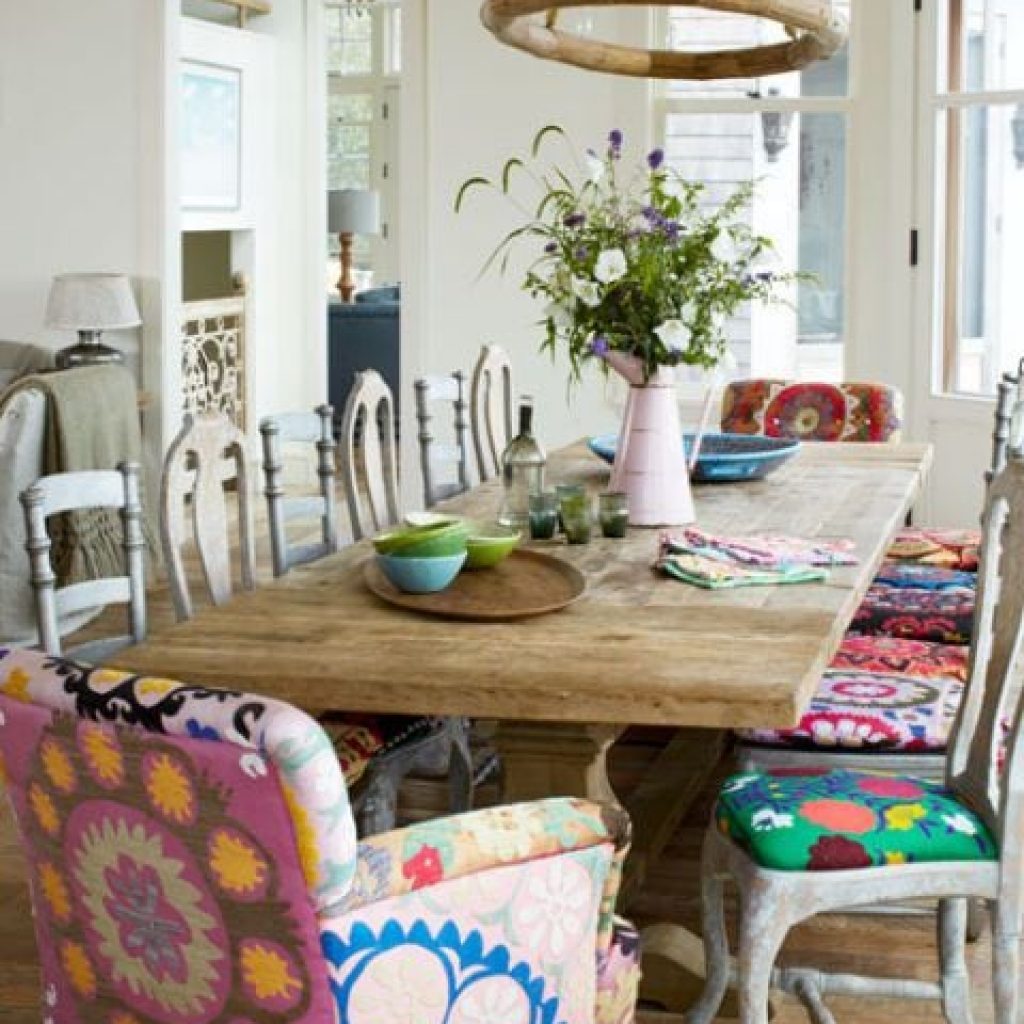 Suzani is a type of embroidered and decorative textile based on ethnic motifs from countries such as Indonesia and Uzbekistan. It can be both printed and woven. Suzanis were traditionally made by Central Asian brides as part of their dowry and were presented to the groom on their wedding day.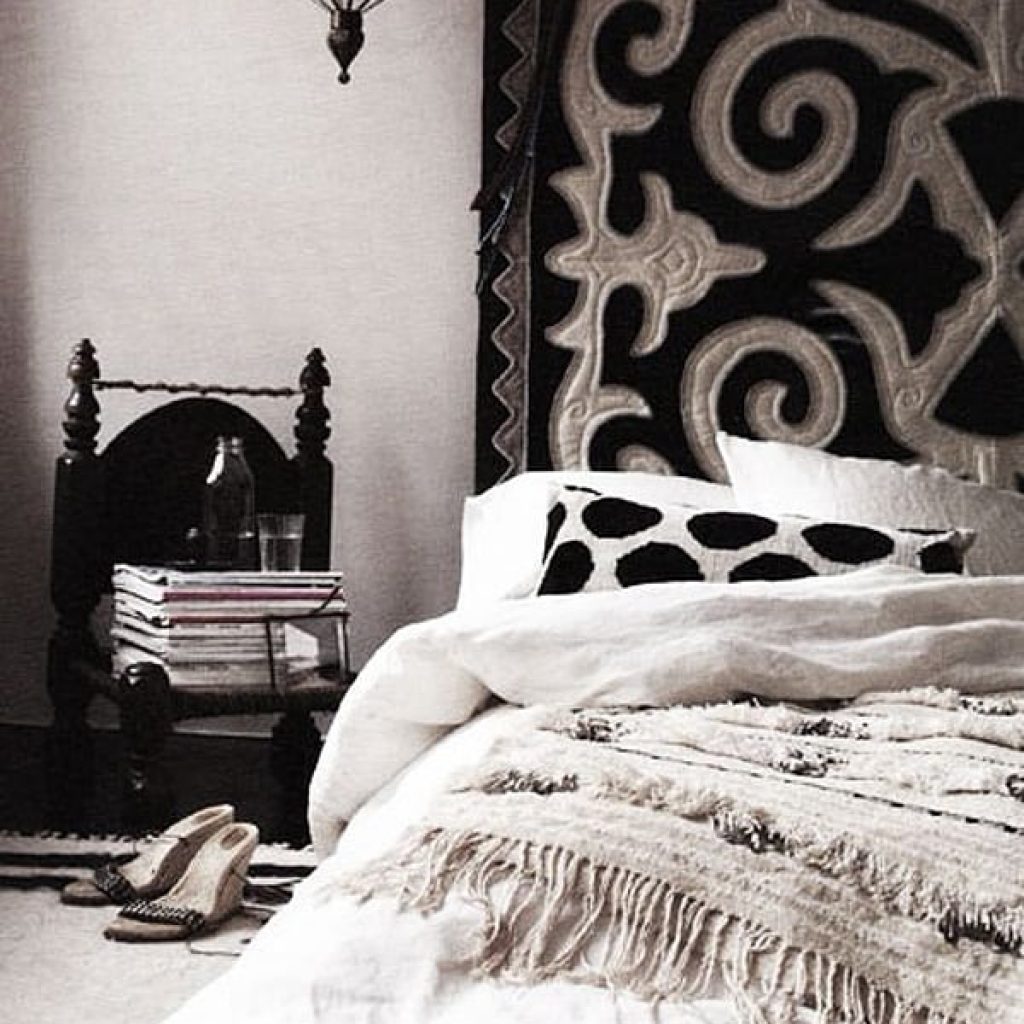 This black and white bedroom proves that a monochromatic palette can be just as Bohemian as a colorful one. Fringe, such as on this Moroccan wedding blanket and the area rug is a design element often seen in Boho Chic rooms. Note the other eclectic design choices: a heavy tapestry which serves as a "headboard," the Moroccan feel of the chandelier and the petite carved wooden chair used as a nightstand. Bohemian Pages
Fringe, another 2018 design trend, was originally used on furniture as a way to keep textiles from unraveling. From Victorian lampshades to hippy dippy 1960s curtains, fringe, a design staple from years past is reemerging in both fashion and décor. From bold, bright tassels to dainty pom poms to leather threads, fringe is weaving its way back in style.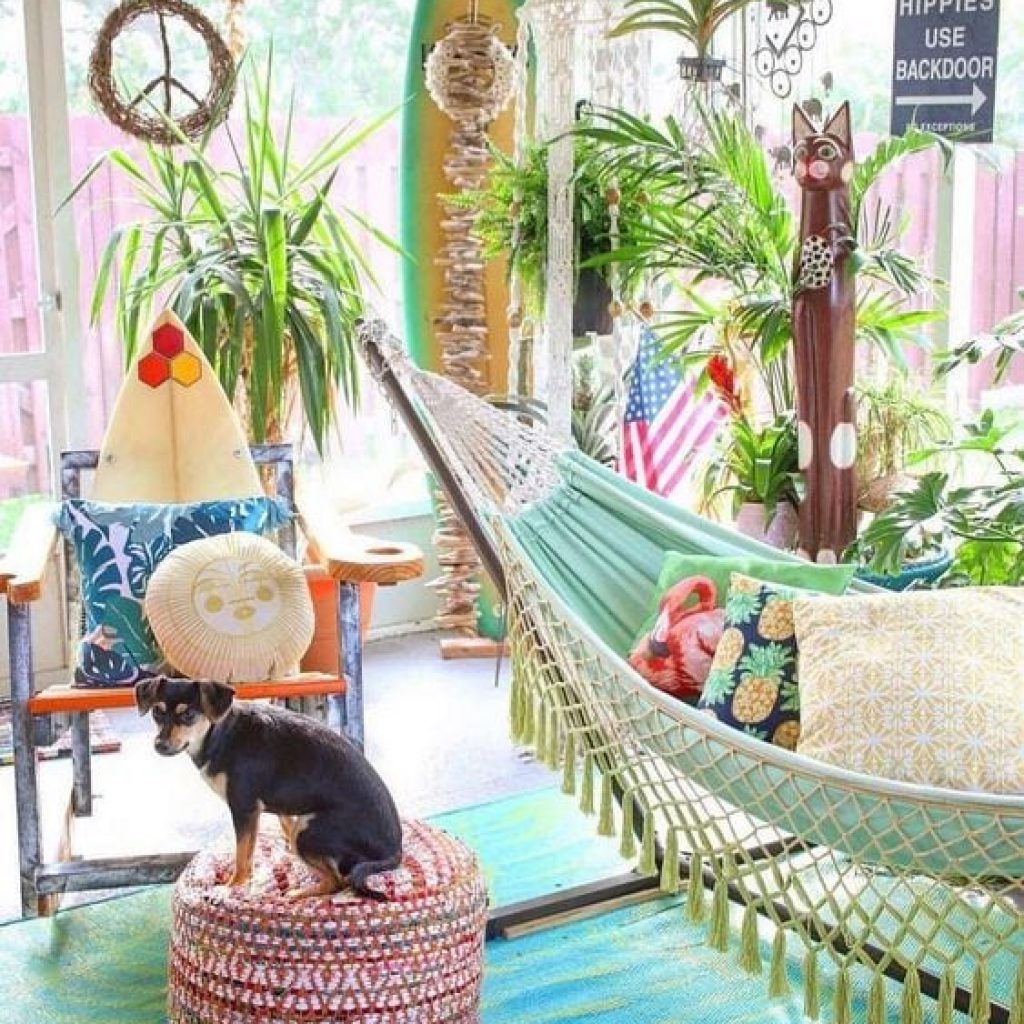 What a happy happy place, don't you think? This space represents the Bohemian style to the max. Bright colors, a variety of textures and patterns, a plethora of live green plants, eclectic furniture and art, a colorful patterned rug..even a fringed hammock! Boho Chic Style
Hammocks are quite the craze these days, and their appeal is not just an aesthetic one. A study conducted by a team of Swiss researchers has found that a swinging motion synchronizes brain waves, allowing people to drift off faster and attain a deeper state of sleep. Their results also support the tradition of rocking children to sleep. Kinda cool, huh?
Shocking pink is a dramatic backdrop for this dramatic entry that pushes all the Boho Chic buttons. That rug! That stair runner! That mix of furniture styles! That eclectic art! It all works, and I'm loving every single "over the top" bit of it! Summer Thornton Design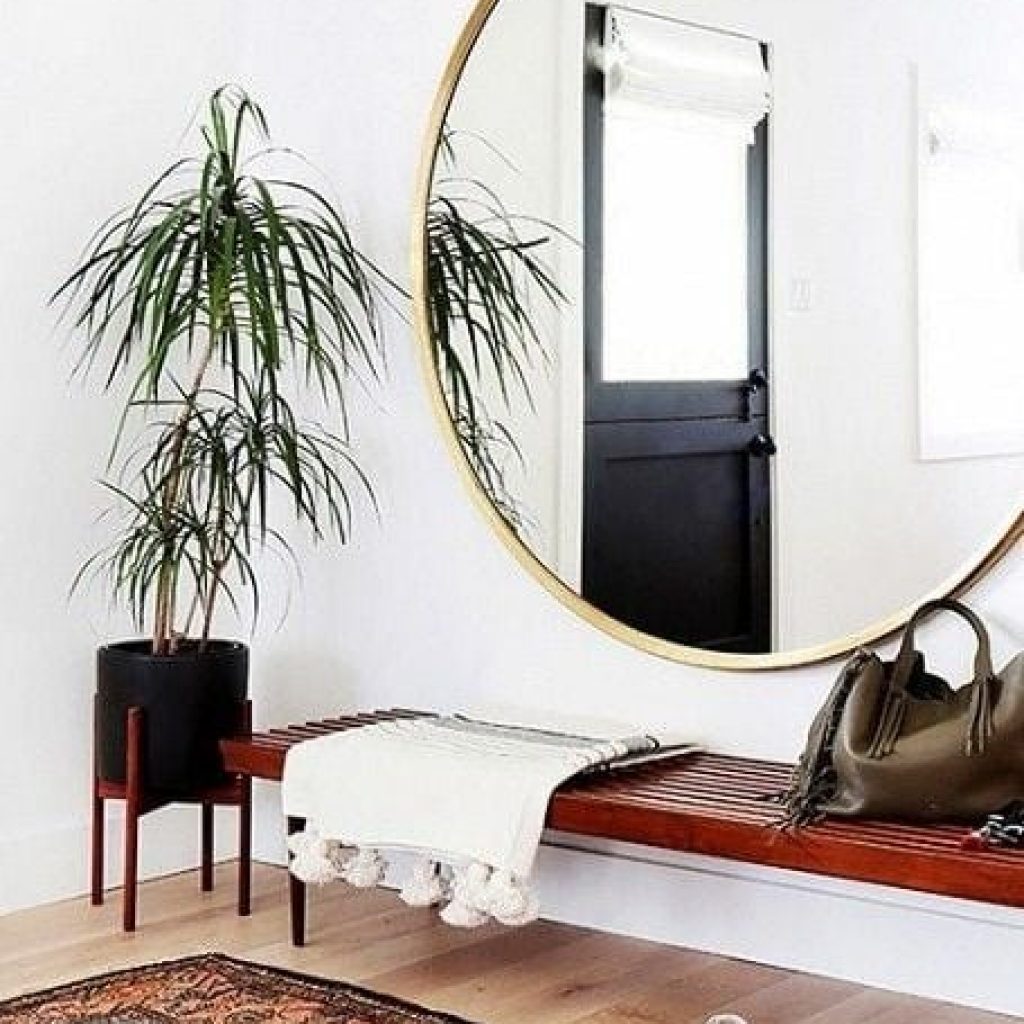 On the other end of the Boho spectrum, this entryway is quiet but still retains its Bohemian vibe. Check out the pom poms on that throw, the patterned rug, live green plant and simple wooden bench. The oversized gold framed circular mirror is unexpected and pretty amazing. The Zoe Report
Entryways are a great place to try out a new style if you're not sure you could go "all in." Why not try out a few Boho design elements in your foyer this summer and let everyone know you have a laid-back side to you!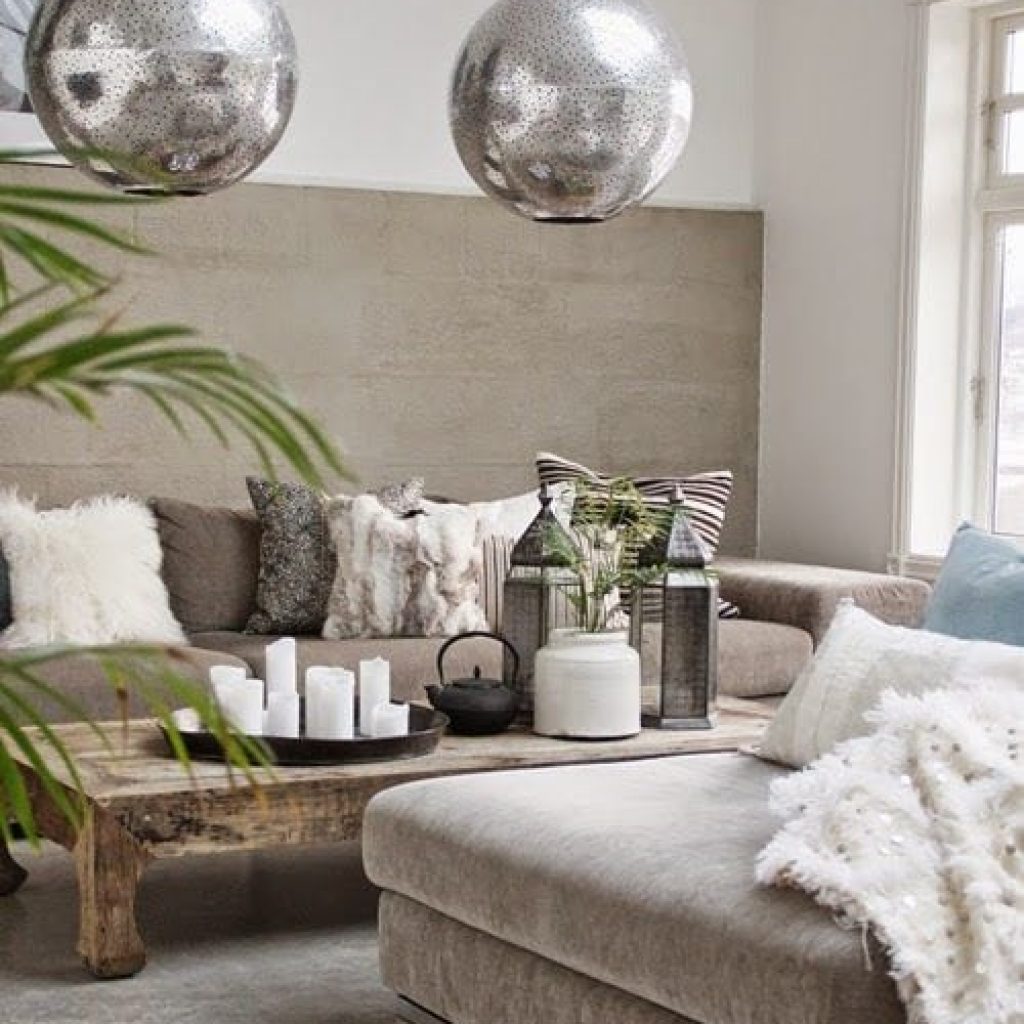 Here's another example of the Boho style done in monochromatic tones; this time in shades of grey and taupe. I could see this space being really fun for a teenage crowd, too. I love those awesome silver pendants, don't you? Again, textures are king here. Loving those fur pillows and sparkly throw. Moroccan style lanterns, a low rustic table and a bunch of white candles are the perfect finishing touches. Oh, and there's that green plant peeking into the picture, too. Vinner: Lyssetting AV Hjemmet
There is a thin line between Moroccan and Bohemian styles. While both embrace pattern and color, Moroccan is a period style that tends to be darker and heavier in feel and has a Moorish influence. Bohemian décor is lighter in feel and more "fun" with plants and mixed design styles playing a big part.
Okay, so who out there has the hutzpah for this style? If a Bohemian Rhapsody is striking a chord with you, let us kow in the comments below, and please give me a call (314.560.0830) or CLICK HERE to contact me. I am dying to do a room (or a whole house) in fun-loving Boho Chic.