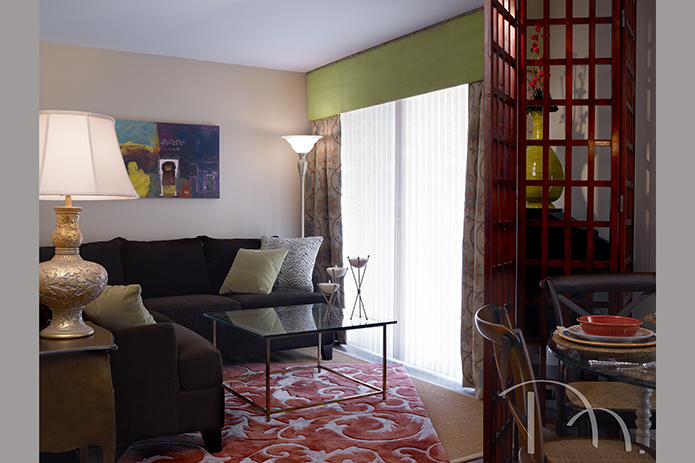 Last week I received an email announcing the fifth birthday of Home Sweet Home, a local charity (more about them later). It started me thinking about all the community service projects that I, and many other designers, are involved in here in St. Louis. Often we are asked to donate time, products, gently used furniture, or to create things like tablescapes or windowscapes. We haven't had a showcase home recently but that is another avenue where designers show off their chops in order to help a charitable organization. I personally have been involved with Habitat for Humanity, Ronald McDonald House, Food Outreach, Juvenile Diabetes Research Foundation, Home Sweet Home and The Repertory Theatre of St. Louis.
Today I'm going to show you my favorite community service project. As a lover of live theater, this was the perfect venue for me. Back in 2010 and 2011, Christy Marshall, then editor-in-chief of St. Louis At Home Magazine (now Design STL), spearheaded a project to revamp the dreary apartments that housed out-of-town actors for The Repertory Theatre of St. Louis. This two-story, 1960 era concrete block apartment building had been dubbed The Bates Motel by the actors who stayed there, which should give you a hint of how much work was needed.
Nineteen apartments were renovated with the help of local designers and many, many vendors. Almost everything was donated, given the very small budget available. I renovated one apartment in 2010 and another in 2011. This was a labor of love – an entire summer spent sourcing products, asking for donations, and working with all the wonderful vendors who gave of their time and expertise to make these apartments spectacular.
Here's a look at what Marcia Moore Design created for the actors who grace the stage at The Rep. Everything in this space was donated or purchased at discounted prices, so the look and style of the space evolved based on the items available. It ended up having a very Moroccan vibe, before that became a popular look! (All AFTER photos by Matt Hughes)
Since actors stayed in these apartments for the entire length of a performance (at least a month) the kitchen needed to function for more than just coffee and snacks. The dual convection oven/microwave served warm up and baking purposes and a tiny console table adds serving space with a hanging rack above.
With the exception of a dishwasher, this is a fully functioning kitchen, including cookware, dishes, silverware and glassware. Dark paint works well with the grayish-green cabinets, and iridescent tile and stretches all the way from the kitchen to the front door.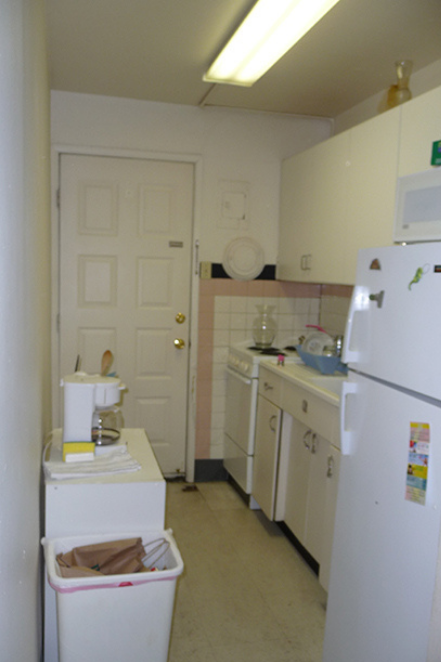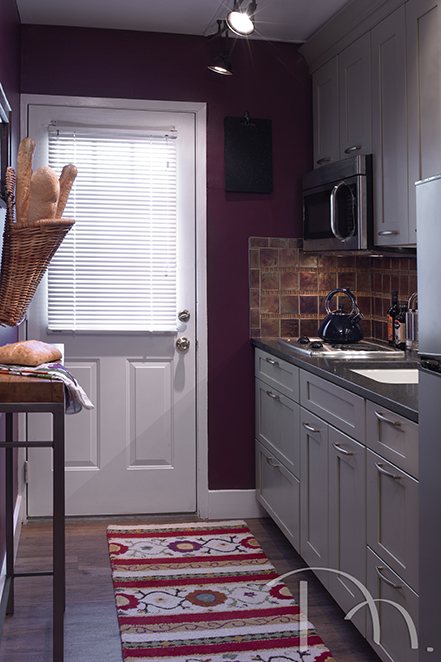 The backsplash tile, left over from a kitchen renovation I had just completed, was donated by my client. An open shelf serves as a tiny coffee bar.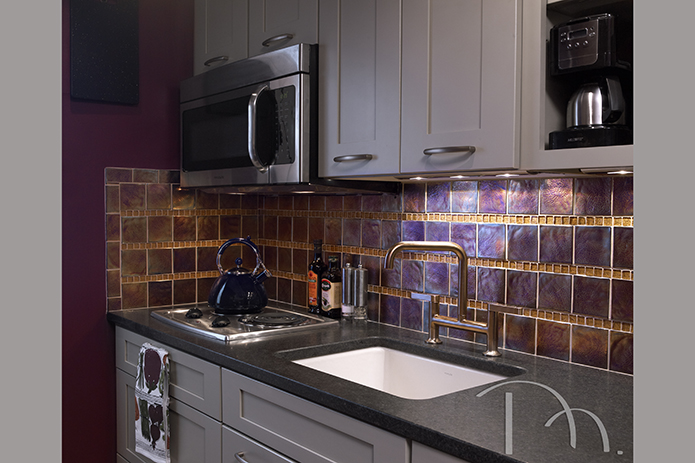 Just inside the front entry sits a round dining table with seating for four, a bar cart, and a desk area. The wooden screen separates the dining area from the living room. The table and the mirror above the desk were both donated dark wood pieces that we refinished in distressed white. The colorful Moroccan art was a lucky Tuesday Morning find. Throughout the house we used luxury vinyl plank flooring to mimic hardwood.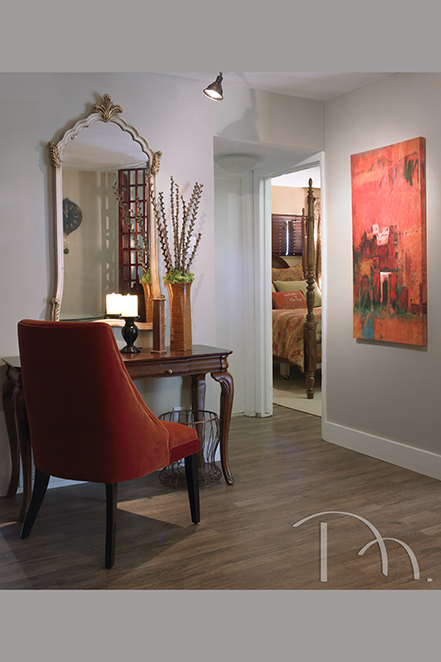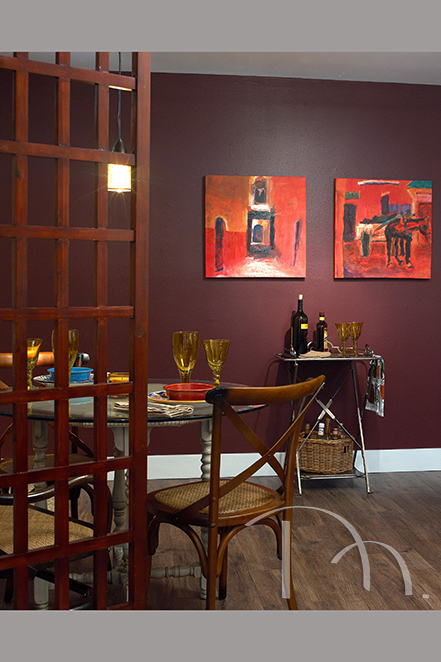 The patio door opened to the front walkway used by anyone staying in an apartment so adding some privacy was critical. A small sectional created a welcoming space to relax with guests or just watch TV (partially seen behind the 3-panel screen). Layered rugs, pillows, candles and a faux floral arrangement made this small living room feel like home away from home.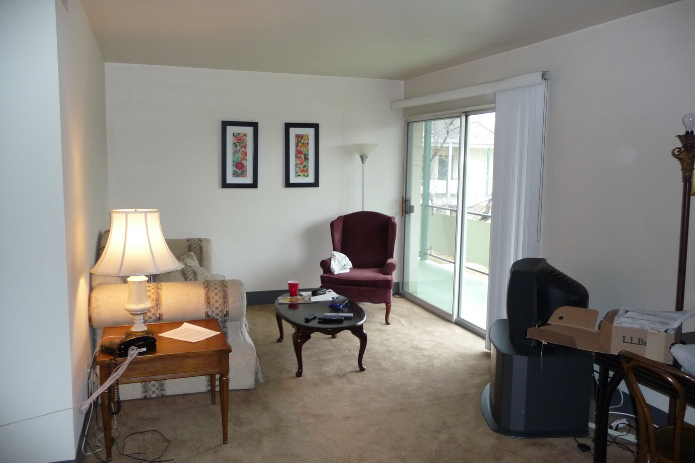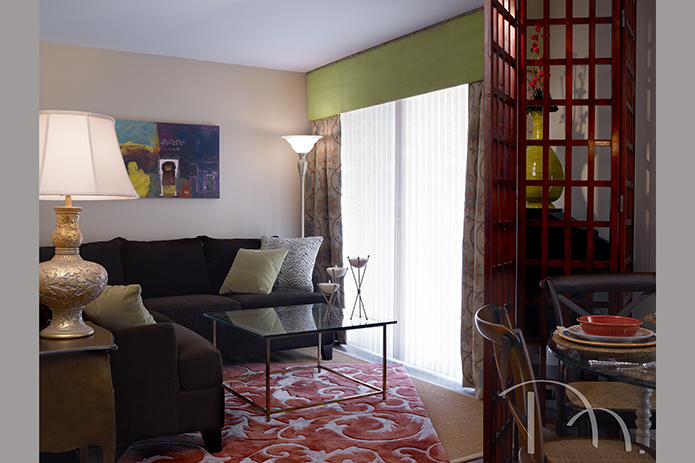 Another walkway was behind the apartments so these high windows needed something that would work for privacy and let light in. Blinds that can tilt 2 ways did the trick. My son had just recently gone away to college so I donated his bedroom furniture to the cause. The dark wood and soft lighting created a cozy sleeping space. Notice the embroidery we added to the small pillow…"Welcome to the Rep!"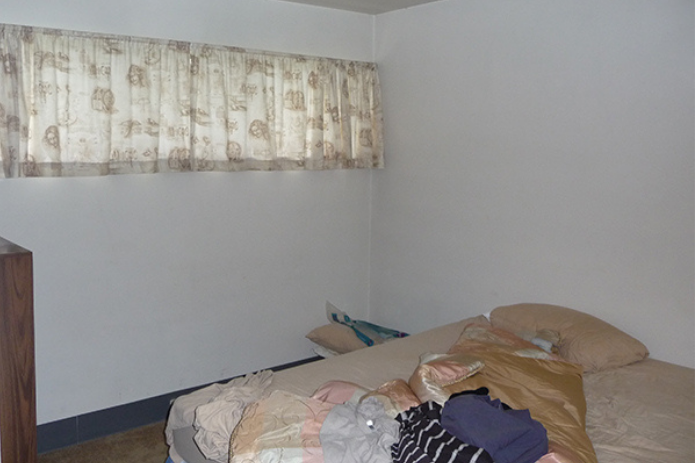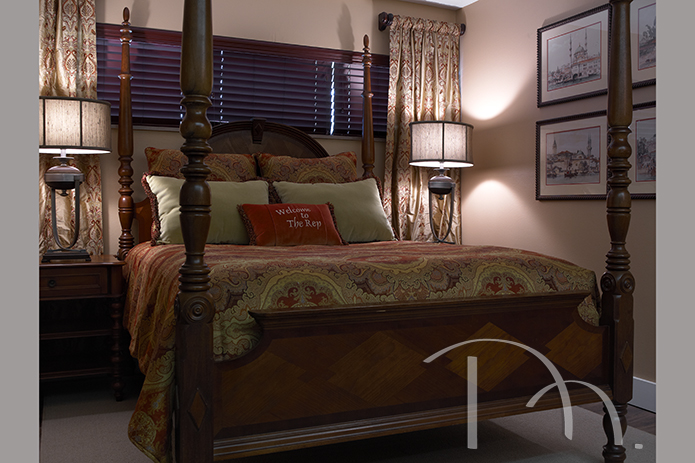 What a transformation! If there is one place in a hotel that you want to be clean and functioning and attractive it is the bathroom. Creating a little spa away from home was the goal here. The window was next to the shower so whatever we used needed to achieve privacy but work in a wet environment – vinyl shutters to the rescue. A beautiful granite remnant gave us the color palette for the room.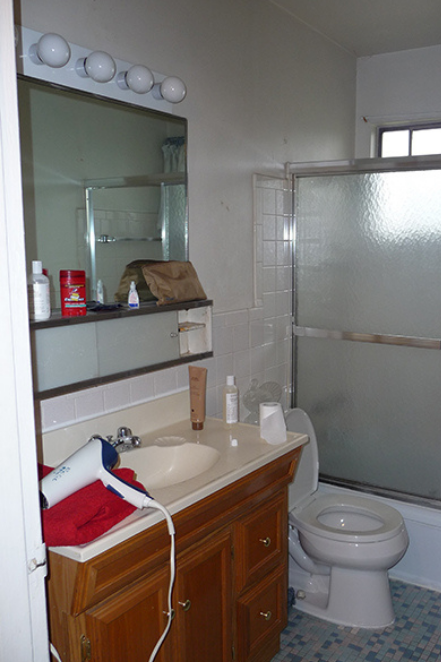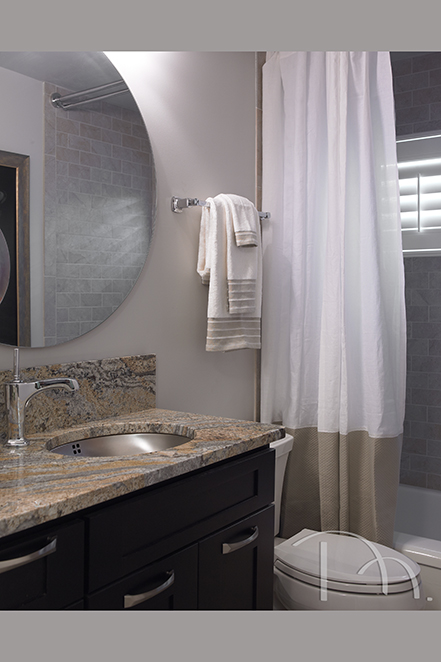 I would never have been able to do this project without the extraordinary generosity of so many vendors. Here is a list of the the wonderful businesses who supported me in this venture. I am grateful to each and every one of them.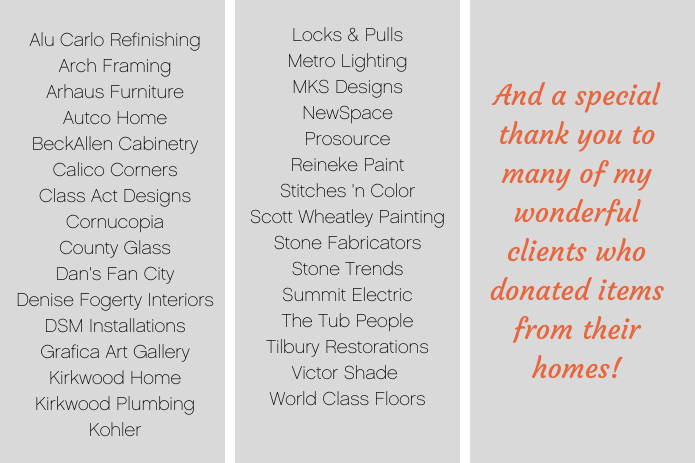 So there you have it. A lot of hard work, elbow grease, many hours and many wonderful people were needed to pull off this labor of love. I'm used to working in large homes with budgets to match so elevating a tiny space like this was lots of fun, a little challenging and very rewarding. We heard rave reviews from all the actors who stayed in these apartments post remodel.
I mentioned Home Sweet Home at the beginning of this post. This is a favorite of mine for donating because of what they do and who they are. The 5-year-old charity was created to source all of the items a homeless person would need when they finally got a home of their own. Home Sweet Home is the perfect charity for designers to use when our clients need to find a place for no longer needed furniture and household items. Schedule a pickup and know that your items have found a perfect new home.
If you need a dramatic transformation in your home or even if you just want to redo a room or two, give us a call at 314.395.1114 or CLICK HERE to send us a email.
We're back running full speed at Marcia Moore Design but if you'd still prefer to work virtually, we understand and can do that, too. Whatever works best for you and makes you the most comfortable is great with us.
Stay safe and healthy,
P.S. SUBSCRIBE to receive our latest post each week directly to your inbox.
P.P.S. CLICK HERE to check out our portfolio. We recently uploaded several new projects that we're super excited about.
Here are a few more posts you might enjoy!