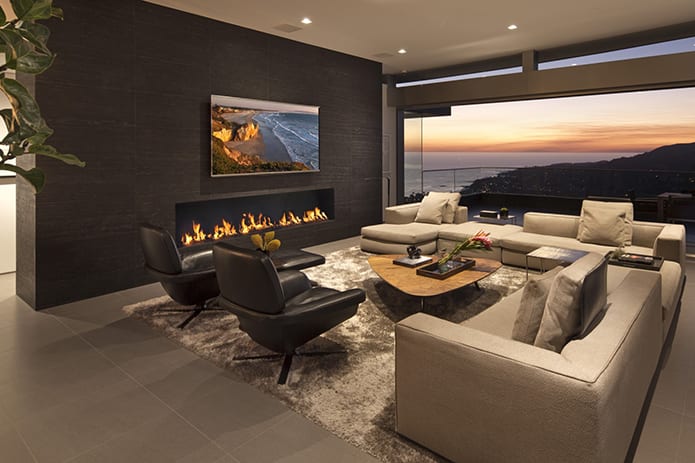 "Every room needs a touch of black."   Jan Showers
Sophisticated, sexy, mysterious, edgy… so many black moods, and I love them all! Black is chic, bold, and elegant. It's also dramatic, funky and moody. It's the perfect backdrop for color and the ideal partner for white. Black is timeless (think Coco Chanel's LBD), but it is also of the times (think Charles Eames' black leather lounge chair). Black works in the kitchen, the bedroom, the bathroom…any room. Whether you choose to embrace black completely or just splash it around a bit, black adds depth, character and personality to a room.
And black is back (not that it ever went out) in paint, tile, cabinetry, molding, fabric; pretty much every design element can be done in black.
Here are 12 creative ways to take your home on a trip to the dark side. Who knows? You might never come back.
I love this dramatic oversized black and white painting by Ricardo Rumi and these glamorous glossy black walls, don't you?
And just look how the splashes of color in this other room pop off their black background. I especially love the eclectic mashup of art, too.
Paint does wonders! Have a piece of furniture you're not in love with? A few brush strokes with a high gloss black paint can make a "cast off" into a "can't wait to have this in my home" piece like this beautiful commode.
Or maybe you hate the dated color of your wood paneling? Paint it! Black will give it a much more contemporary look.
Gold and black is always a classic combo. This stunning powder room with its fabulous gold chinoiserie mirror, glossy black walls and vanity and beautiful black and white marble top is like a little jewel box.
And how sexy is this sinuous black and gold contemporary console?
When you've made the commitment to go dark in a big way! The entry in this Victorian house gets a healthy dose of black. Just add a ghost and a few cobwebs, and you're all ready for Halloween.
And what do you think about an all black bedroom?
Black ceilings are stunning! In this dining room, you almost can't tell where the ceiling ends, and it lets that amazing chandelier shine! Loving that awesome graphic black and white wallpaper, too.
And what about that gorgeous black and gold stenciled powder room ceiling!
From the ceiling to the floor, black doesn't disappoint. This foyer's black and white marble is the ultimate sophistication underfoot.
And here's another black floor to love…this time in laquered wood. Check out the molding on the french doors too, and the simple black trim on the drapery.
Black and white perfection in a contemporary setting. Notice the pop of green in the background?
And this sophisticated patio setting in black and cream is perfection.
And maybe I saved the best for last…at least the best view (can you even believe it?) I love this black fireplace wall. It kind of recedes into the background and lets other design elements (and that view) take center stage.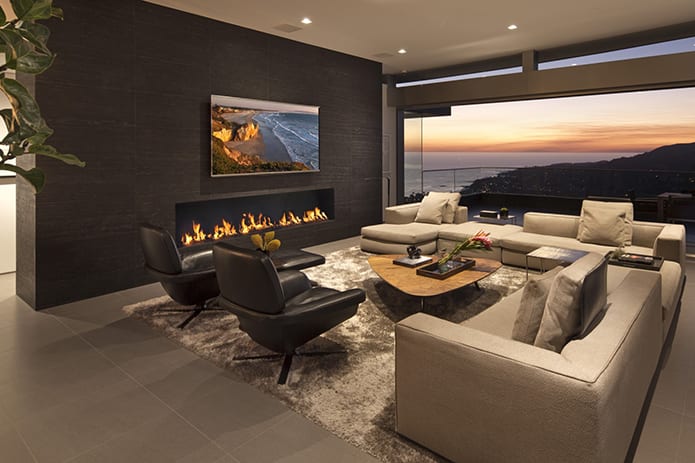 So what's the verdict? Have I inspired you to bring some black into your décor? The sultry hue isn't just for Halloween. We think it's a wonderful choice any time of the year. What do you think? We'd love to hear your thoughts in the comments below. And if you'd like us to work some black magic in your home, give us a call at 314.395.1114 or CLICK HERE to contact us.