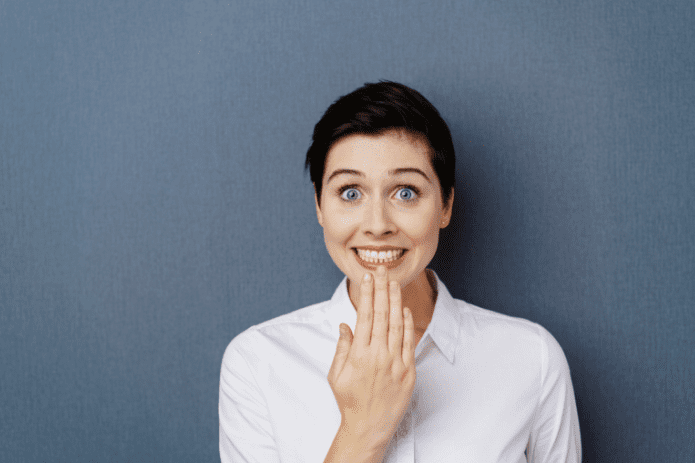 If you know me well, you know that I'm all about breaking the rules–in design, that is. Great design often comes from thinking outside the box and stepping outside your comfort zone. In fact, one of my favorite quotes is by designer Nate Berkus who said "The best design projects are those where people broke the rules." So while I'm all about dancing to the beat of your own drum, there are a few "rules" that should be followed, or rather design faux pas that should be avoided when planning your interior spaces. These are rules that are in the "no socks with sandals" camp. (Yeah, sock wearers, I see you).
So let's get to it. Here are 10 design faux pas that people make all the time, and they're all easily avoidable. After all, who wants to be caught with socks in their sandals?
1. Neglecting the Entry
From the beginning of time, we've heard how crucial first impressions are, right? It's important to look our best for job interviews, sales calls, first dates! Well the same holds true for our homes. First impressions count there too, and your entry, both inside and out, is the first impression your visitors get of your home, so make it a good one. First off, your mail, coats, shoes, keys and backpacks need to find another home. Period. Your entry should say "I'm so glad you stopped by" not "Take a look at everything I've collected throughout the day!"
Here's an example of an entry done right. Simple, classic and put together…everything a stylish entry should be.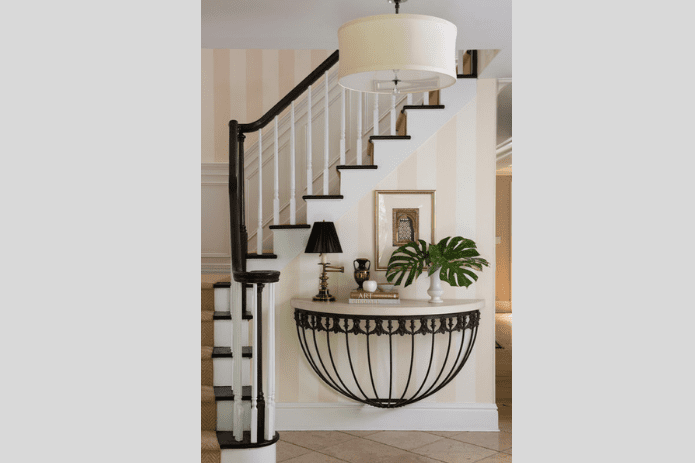 Outside, flower pots (well-watered and weed-free), clutter-free steps, an attractive welcome mat, awesome light fixture, interesting area rug, maybe even a bench or small table with a scented candle, all say "welcome!" Oh, and don't forget to answer the door with a smile on your face. This entry is so beautiful and welcoming, I don't even want to go inside!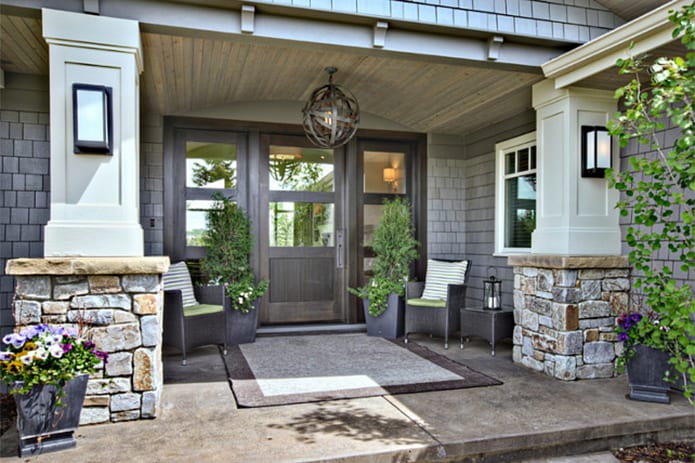 2. Getting all Matchy Matchy
If you want your rooms to have personality, for the love of all that is good, don't buy sets! The operative word here is "coordinate," not "match." Buy the wood dining table, but find painted chairs somewhere else. Purchase the matching end tables for your sofa, but choose a totally different coffee table. Get the bed you want, and if you must, the matching dresser, but please, go for unique, interesting bedside tables. If this is beyond the scope of your personal decorating gene structure, call me.
Everything about this dining room works, but I especially love the acrylic ghost chairs paired with this rustic wooden table and upholstered host and hostess chairs. Perfection!
And this bedside table is a standout, isn't it? The color, the texture, the shape. Everything.
3. Hopping on the Trend Train
Trends are great starting points, but shouldn't be blindly followed. The more trendy and popular something is right now, the more dated and out-of-style your room will look in a few years. That's not to say I think trends are bad! Not at all. Trendy pieces are fun to work into a design scheme but should be used sparingly and should not be so expensive that you can't justify replacing them once they are passé. Use classic pieces for your big, expensive items, such as the sofa or dining table so they have staying power.
Pillows are a great way to embrace a trend because they can easily be swapped out; same thing with dining chair cushions and bedding; satisfy your trendy need with fabrics and linens that can be replaced easily if you change your mind.Velvet pillows in soft pastels are a trendy addition to this classic sofa.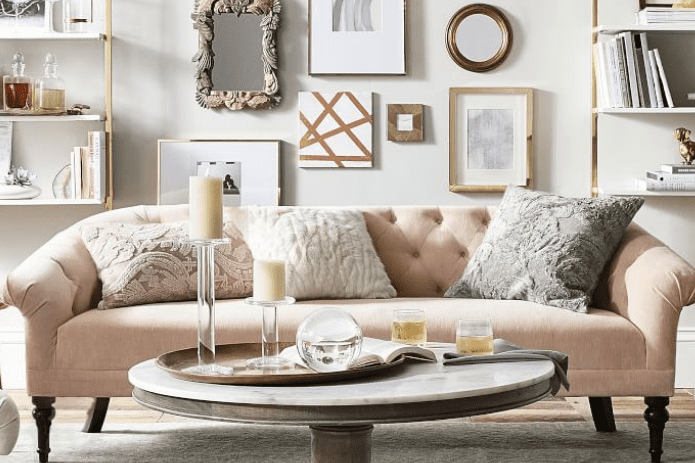 Gorgeous seat cushions in 2018's trendy lavender hue are an easy change when the mood strikes.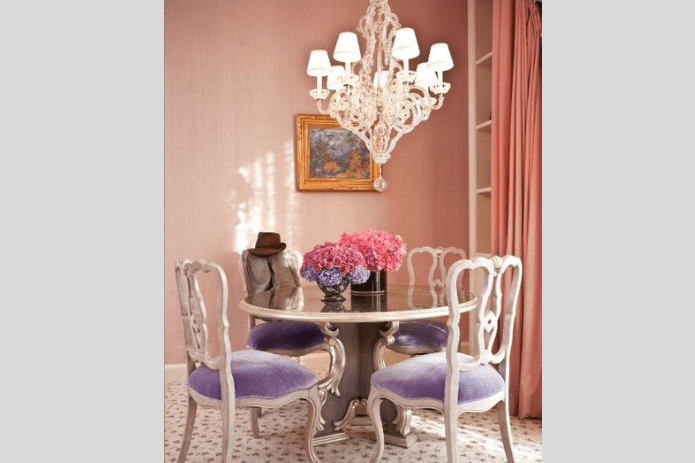 4. Holding on for Dear Life
That old piece of furniture you're keeping for your kids? Let it go. They won't want it anyway. That lamp that cost so much you can't bear to get rid of it? Cry into your hankie, then out the door it goes, sister. That cute little antique table that is broken beyond repair, but you love it so? Get over it. It'll never be what you want. As much as you hate to admit it, all that "stuff" is just clutter and really bad energy. These pieces need to go. Take them to a resale shop, donate them to a worthy cause and take a tax deduction or just (perish the thought), put them out for the trash. If you can't make yourself do it, hire a professional organizer, interior designer, feng shui practitioner, or maybe a therapist.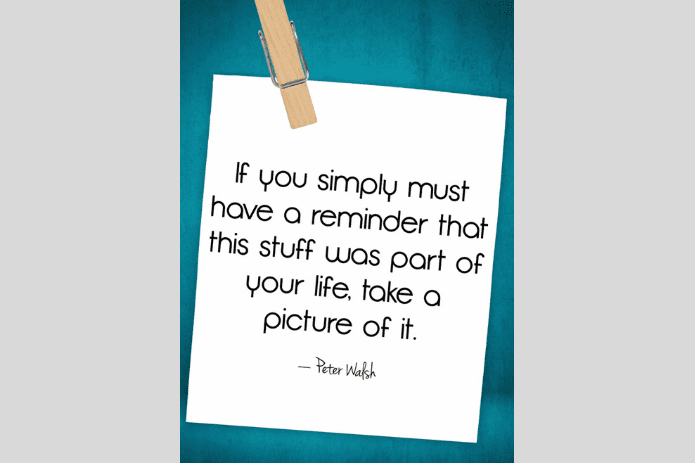 5. Shoving the Furniture Up Against the Wall
Nothing says "awkward" more than furniture shoved up flush against the perimeter of a room. It creates an unwelcoming vibe. Rather than feeling like you're shouting across the room from the sofa to the nearest chair, pull the furniture away from the walls to create a cozy conversation area. Your space will look much more inviting, and the traffic flow will be behind you, not in between the seats. And trust me, no one will mind seeing the back of your sofa.
Here are two of our projects that are good examples of letting your furniture breathe. In the first photo, our clients needed a large gathering space for family and friends. With the furniture pulled into the room instead of up against the walls, the space becomes even more inviting.
The second photo is of another client's midcentury living room With lots of breathing room to make each piece stand out,the room is the epitome of elegance.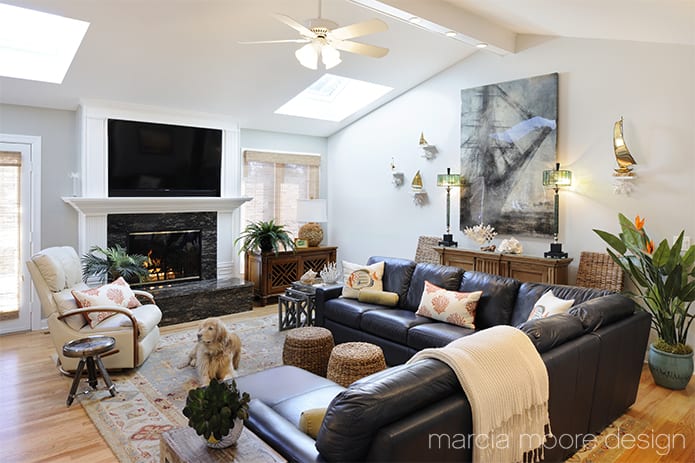 Design by Marcia Moore Design | Photo by Michael Jacob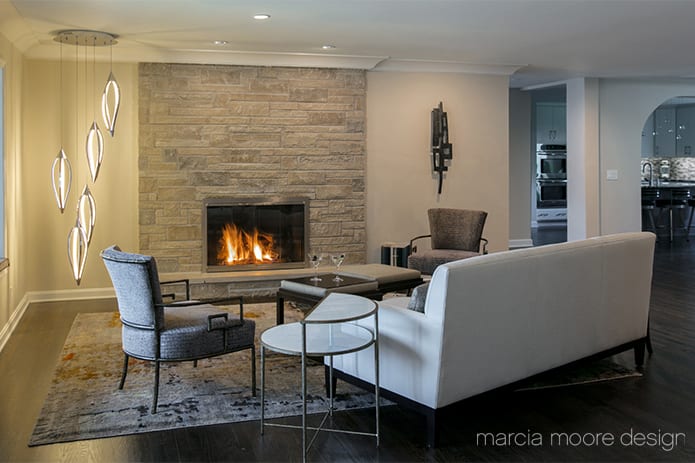 Design by Marcia Moore Design | Photo by Michael Jacob
6. Ignoring Simple, Inexpensive Updates
Maybe you can't afford to remodel your kitchen or bathroom right now, but there are some things you can do to immediately make those rooms more palatable until a renovation is in the budget. New, interesting cabinet hardware can make a huge difference. There are so many beautiful choices these days.
Think of hardware as the jewelry on a cabinet. A new shower curtain, rug and towels can transform a bathroom making it seem fresh and new. Have a 1950s pink tiled bathroom? Get creative with this less than lovely space by painting the walls white or covering them in a funky black and white wallpaper.You'll be amazed at what just a few simple and affordable changes can do. Just look how the crystal knobs add sparkle and shine to this dark wood cabinetry in our client's master bath!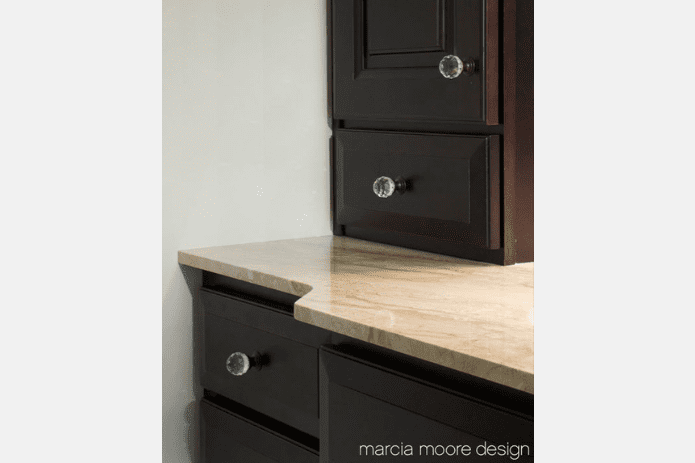 Design by Marcia Moore Design | Photo by Matt Hughes
And suddenly the 1950s pink tile looks pretty darn cool.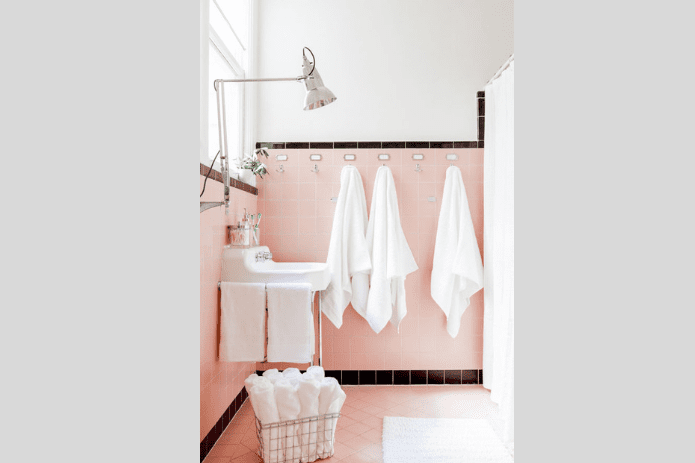 7. Being Afraid to Paint
Are you living in an all white or beige world because you're afraid to put a little paint on the walls? It's time to bite that bullet and start living in full color. And although paint is certainly a less expensive option that wallpaper or tile, it can be easy to choose the wrong color. If that's what's holding you back, I highly recommend hiring an interior designer to help you pick the perfect palette for your room or entire home. It will be well worth your money because there is no such thing as a "good enough" paint color. The paint color makes or breaks your room. It needs to be perfect.
BEFORE | This room in our clients' home, with its pale yellow walls, lacked personality.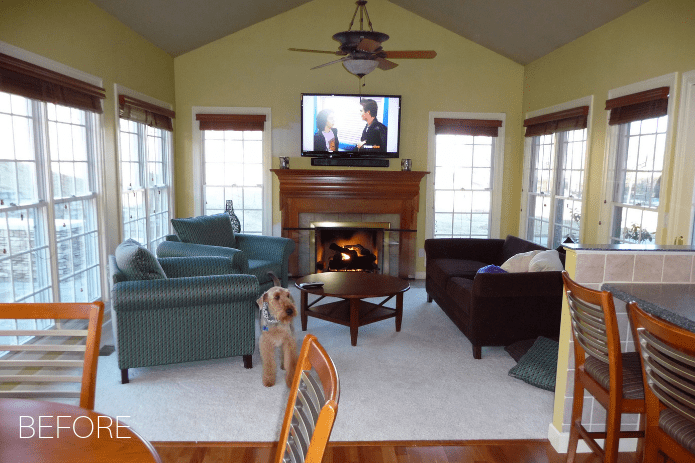 AFTER | What a difference the right color makes! Rich plum walls embrace this space and make it warm and welcoming.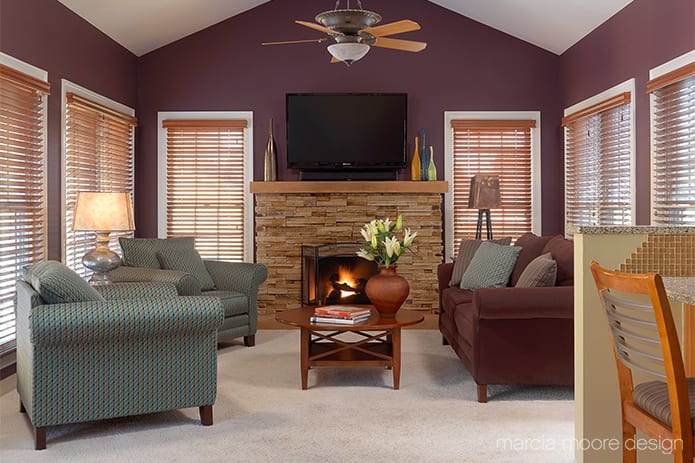 8. HANGING ARTWORK TOO HIGH
You've all heard that art should be hung at eye level, right? Well, whose eyes are we talking about anyway? And just how the heck tall are they? Here are a few rules of thumb to follow to make sure all eyes can enjoy your art:
* For pictures hung alone with no furniture beneath them, the center of the picture should be about 60″ to 66″ from the floor.
* For a photo grouping, the center of the group should be about 60″ to 66″ from the floor.
* Art above a piece of furniture should be hung close enough to the furniture to feel like it's part of the grouping, which includes the furniture. In most cases, this is approximately 6″ between the furniture and the art.
Perfectly placed artwork becomes a focal point in this small dining nook.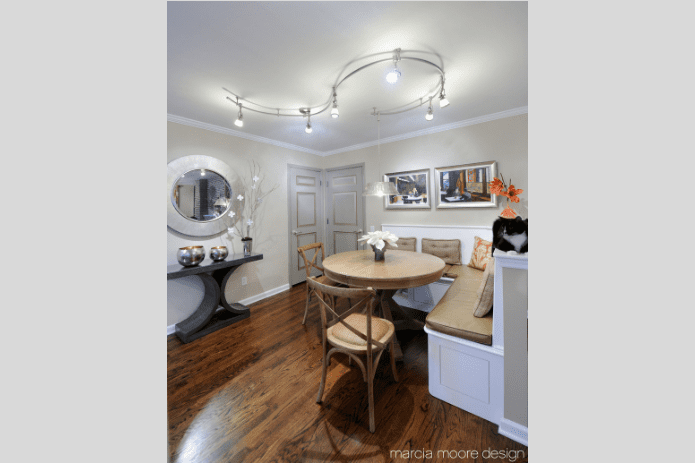 Design by Marcia Moore Design | Photo by Michael Jacob
What about tall ceilings? I knew you'd ask. The art on a wall with a tall ceiling needs to be hung in relation to the people who view it, not in relation to the height of the ceiling. The painting pops of this wall and is hung at the ideal height for all in the room to enjoy.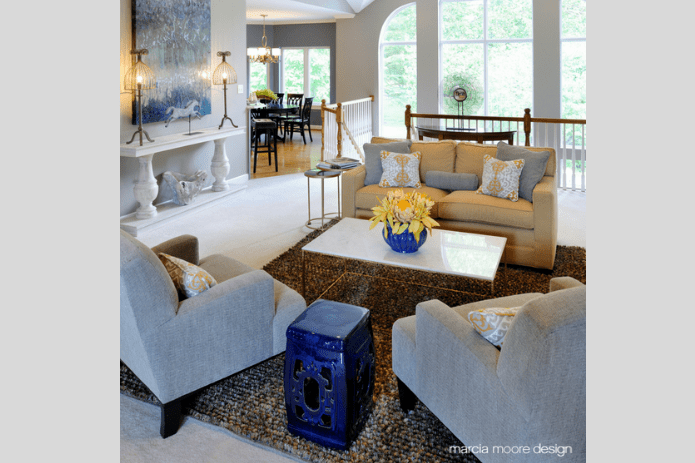 Design by Marcia Moore Design | Photo by Michael Jacob
9. OVER ACCESSORIZING
Placing accessories correctly is a difficult aspect of decorating. Think about when you're reading a book. After awhile you need to look somewhere else or rub your eyes, or get up and walk around a little bit. The same principle holds true in design. Your eyes need empty spaces so they don't get over-stimulated. Don't fill a shelf full of your collectibles. Put an odd number of items together (usually 3 to 5), then leave a little blank space before you place another grouping. That blank space lets your eyes rest, which keeps the shelf from looking too cluttered and makes your collection all the more interesting.
Careful editing of our client's collectibles, makes this bookcase a piece of art itself.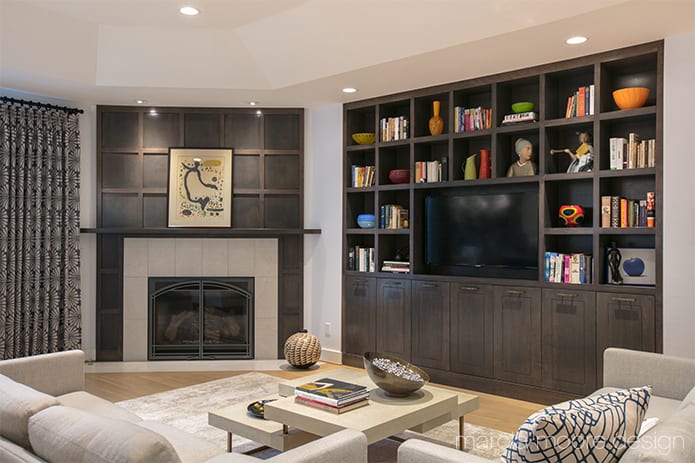 Unexpected and fun, we filled an Asian-feel etagere with an assortment of white coral and shells; perfect accessories for our client's coastal-inspired home.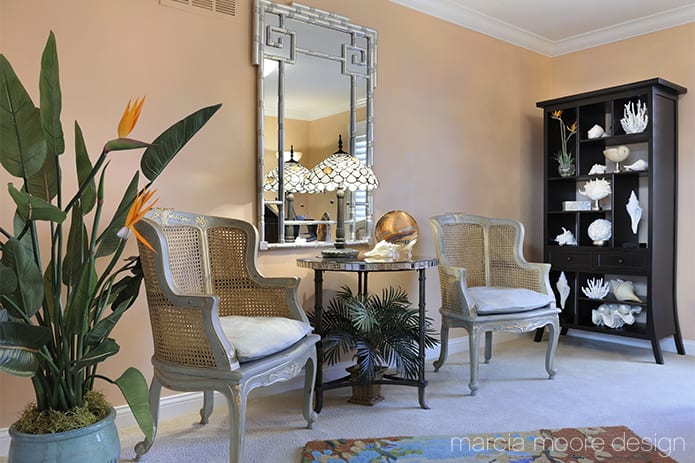 Design by Marcia Moore Design    Photo by Michael Jacob
10. CHOOSING A SKIMPY RUG
Skimpy rugs don't just look skimpy; they look like an afterthought. One of the main purposes of an area rug is to actually define an area, so it needs to have substance and be the right size for the space. For a seating area, the rug should be large enough to at least go under the front legs of the sofa and chairs. This defines the furniture as a group, rather than separate pieces. For a dining room, the area rug needs to be large enough to have two feet of rug behind the chairs, all the way around the table. You should be able to pull out your chair, sit down and pull up to the table without catching the rug on the back legs of the chair.
This stunning area rug just makes this grand room, doesn't it?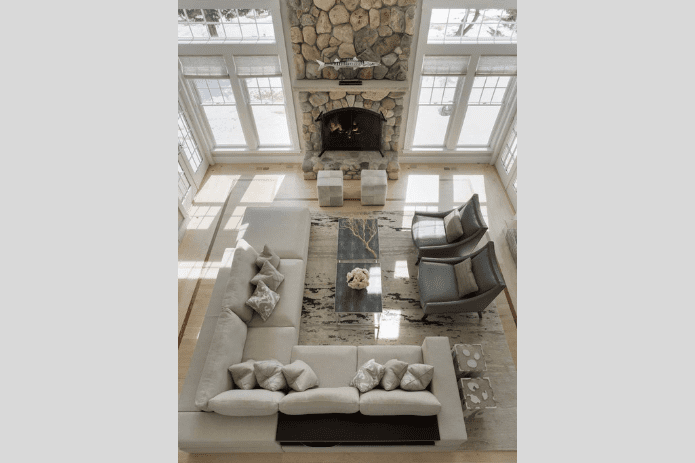 A lighter feel underfoot, this area rug grounds the space and gives a lift to the moodiness of this beautiful dining room.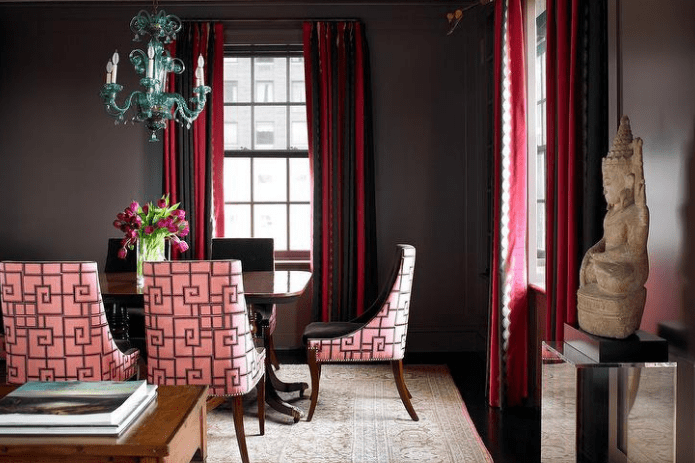 So there you have it. Ten design faux pas that will make you look like a decorating rookie. And who wants that? If it's all overwhelming, give me a call at 314.395.1114 or CLICK HERE to contact me. I'm happy to help you avoid wearing socks with your sandals.